17.2% rise in orders in H1
Large orders in security printing and order gains in packaging printing
Greater accumulation of deliveries in H2 than in the previous year
EBIT below prior year due to delivery-related lower revenue
With a book-to-bill ratio of 1.37 order backlog grows to an extraordinarily high €805.8m
Good cash flows from operating activities of €17.4m
Equity ratio of 35.6%
With order intake reaching a particularly high €454.4m in the second quarter and the order backlog rising to €805.8m at the end of the first half, the Koenig & Bauer Group is on track to meet its targets for 2018. Strong security business and more orders in packaging printing caused order intake to rise by 17.2% to €705.3m in the first half of 2018 (2017: €601.9m). Driven by the good Q2 figure of €297.1m, group revenue came to €514.4m but fell short of the previous year's figure of €538.9m due to the even greater accumulation of delivery dates in the second half of the year. This was also reflected in EBIT, which at €10.6m was lower than in 2017 (€16.3m).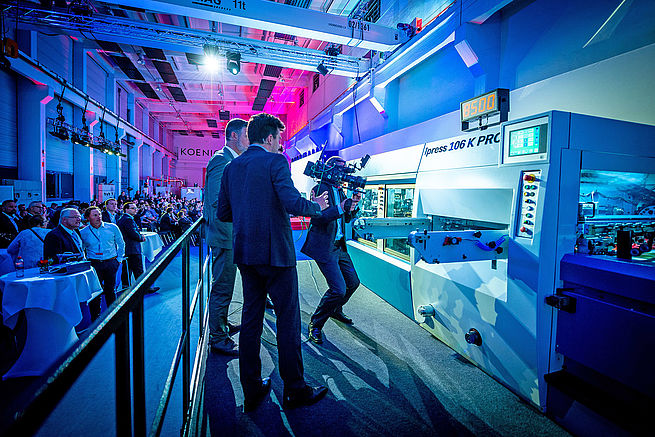 Sheetfed expands market leadership in large-format
The Sheetfed segment reached a strong order intake of €326.3m, exactly matching the previous year's figure, which had been influenced by the Print China fair. President and CEO Claus Bolza-Schünemann: "Substantial growth was achieved in large-format cardboard printing. As the world market leader in folding carton printing, we are benefiting from heightened capital spending of the international packaging printers." EBIT of €7.7m was below the previous year's figure (€12.1m) due to the delivery-related decline in revenue from €307.8m in 2017 to €283m.
Despite the encouraging growth in new business in flexible packaging, orders in Digital & Web (€84.7m) were slightly down on the previous year (€85.7m) due to fewer orders for newspaper web presses and services. In addition to the market-entry costs for corrugated and flexible packaging in particular, EBIT was significantly burdened by the decline in revenue from €68.3m to €55.8m. CFO Mathias Dähn: "This was materially due to the decline in revenue from digital printing presses as a result of subdued demand. However, we see significantly greater short and medium-term potential in the large corrugated and foil printing markets, which are expanding at above-average rates. The targeted expenses required for future growth will leave traces on our cost position, exerting pressure on segment earnings."
Driven by large orders in security printing and growth in marking and coding, order intake in the Special segment rose by 52.8% to €330.6m (2017: €216.3m). With revenue rising slightly from €189.2m to €195m, EBIT came to €14.4m, thus matching the previous year's figure (€14.6m). President and CEO Claus Bolza-Schünemann: "With the major order received from Giesecke+Devrient for the delivery of several press lines for the production of ultra-secure banknotes in Egypt, we have a high degree of capacity utilisation in security printing until well into 2019."
Strong financial and balance sheet profile
Cash flows from operating activities rose substantially over the previous year (€–20m) to €17.4m. The free cash flow was burdened by the final payment instalment of €34.8m made in Q1 for the external funding of a part of the pension provisions. In addition to net liquidity of €48.1m and securities of €14.6m that can be liquidated at any time, the group also has access to syndicated credit facilities. The equity ratio stood at 35.6% at the end of the first half of 2018.

Group targets for 2018
In 2018, the management board expects to achieve organic growth of around 4% in group revenue and an EBIT margin of around 7%. With many projects still in the pipeline in all business fields, the forecast is based on the high order backlog of €805.8m as of the end of the first half year together with further progress being made in the group-wide service initiative and the cost-cutting projects in security printing, purchasing and production. These projects should cause earnings to rise by €70m over 2016 by 2021.
CFO Mathias Dähn: "The achievement of the targets 2018 requires the execution of orders on time in the second half of the year and particularly in Q4 with the accumulation of press installations. Given the high capacity utilisation and external and internal delivery bottlenecks in parts, this is a challenging task to which we pay particular attention. However, we consider it to be particularly important to utilise the opportunities for growth being offered by the market in new press business in order to widen the installed base as the foundation for further growth in service business."
Medium-term goals until 2021
Depending on global economy, end markets and the necessary investments in growth, management is targeting a group-wide organic revenue growth rate of around 4% p.a. and an EBIT margin of between 4% and 9% by 2021. Product innovations in corrugated printing and 2-piece can decorating are not included in the medium-term targets, neither revenue nor costs. President and CEO Claus Bolza-Schünemann: "In addition to our printing, finishing, coding and postpress solutions for cardboard, banknotes, cans, glass and hollow containers and other products, we are particularly focusing on corrugated board and flexible packaging. With the focus on the growing packaging printing, we want to boost our revenue and profitability as well as the stability of our business on a sustained basis."
The financial statements can be downloaded as a PDF file from here