The custom configured press is like no other in North America with the ability to run on the widest variety of different substrates
The Rapida's full drying package with LED-UV technology reduces power consumption, prints on many substrates, such as plastic, decreases drying time, and eliminates distortion
The Rapida 106's advanced color control systems will control and manage color with extensive reporting and consistency throughout the production run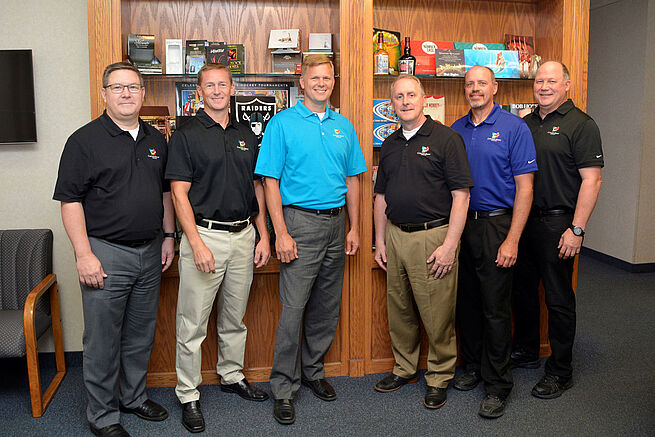 In a move intended to increase its leadership in the printing market, Carlson Print Group announces the purchase of a new Koenig & Bauer Rapida 106 41-inch eight-color press with a double coater and an array of unique technological features. The new press, which joins a Koenig & Bauer Rapida 105 PRO on its production floor in Eden Prairie, MN, will provide CPG's clients with bold, unique products and help CPG to increase its capacity as it continues to expand its business.
"We've found that Koenig & Bauer has the unique ability to listen to our needs and work with our entire management team to customize a one-off printing press that will allow us to serve our current customers, develop new markets, and grow our organization," says Darren Carlson, chief executive officer of Carlson Print Group. "It was an in-depth process that yielded a press like no other in North America. Koenig & Bauer spent a lot of time with our leadership team, sales team, and production team to ensure that we've invested in a really unique press that delivers cost-efficient, value-added processes."
Carlson's new Rapida 106 is a sheetfed offset press with eight colors and two coating units that include a state-of-the-art color control system. This system allows each job to come up to the desired color immediately and maintain that color throughout the production run. It ensures that each of CPG's customer's projects look consistent from beginning to end. An in-line color control measures every sheet and controls every 10th sheet. It also greatly reduces waste and makeready time. This enables CPG to produce the widest variety of print applications and offer unique solutions to their customers to ensure their product differentiates themselves in the crowded marketplace.
The Rapida 106 will also be equipped with two modules from Eagles Systems: one for cold foil applications and the other for Cast 'n Cure applications. Both module systems are run inline in one pass on press providing value-added services to CPG's customers, enhanced its quality, and satisfies customer demands. These modules provide CPG with the ability to provide unique special effects and enhancements for their customers. They are an innovative option that will transcend the demands of CPG's most high-end customers.
Carlson prides itself on being able to offer its customers the ability and flexibility to use different substrates. The new Koenig & Bauer press is custom configured with an exclusive package for board, plastic, and lightweight stocks. This configuration allows Carlson to offer to their customers more material options utilizing this press's capabilities to its full potential.
Hand-in-hand with that potential is the Rapida's full drying package with LED lamps that reduce power consumption and print on many substrates such as plastic, decreases drying time, and eliminates distortion.
"When using LED-UV there is less heat introduced into the materials which substantially reduces the distortion of the material, particularly plastics," explains Earl Guinter, Carlson's sales manager. "LED-UV also improves curing time, which virtually eliminates wait time going to the next operation. The press is also fitted with traditional UV which gives us the flexibility to tailor to specific applications, like some specialty coatings, where traditional UV is better suited over LED-UV."
"We're eager to begin production on our new Rapida press," says Carlson. "It provides numerous benefits for our customers, including a higher throughput of sheets per hour, the flexibility to tailor it to specific applications, ability to run a variety of substrates including plastics, and reduced makeready time. It will be a game-changer for our business."