New Rapida 105 PRO 41-inch fully automated LED-UV press is scheduled to be delivered this fall
Increased need for additional capacity drives investment for new high speed press
Color critical customers demand fast turnaround for multiple substrate jobs
On a busy street in a bustling industrial office park, it would be easy to miss a gray unobtrusive one-story manufacturing facility without a second glance. But enter the doors at the Carlson Print Group's headquarters in Eden Prairie, south of Minneapolis, visitors will find some of the most eye-popping customized print pieces produced by a well-positioned leader in specialty print products for some of the most recognizable brands in the world.
"We've developed a well-earned reputation in the industry to design and produce some of the coolest and most inventive work for our wide variety of nationwide clientele in the Fortune 100 to 500 list of businesses who want to stand out and are willing to invest in award-winning attention-grabbing projects," says Darren Carlson, chief executive officer of Carlson Print Group. "Gaining the new Koenig & Bauer Rapida 105 PRO 41-inch six-color press this fall with all of its bells and whistles will provide our clients with bold, unique products and help us to increase our capacity as we continue to expand our business."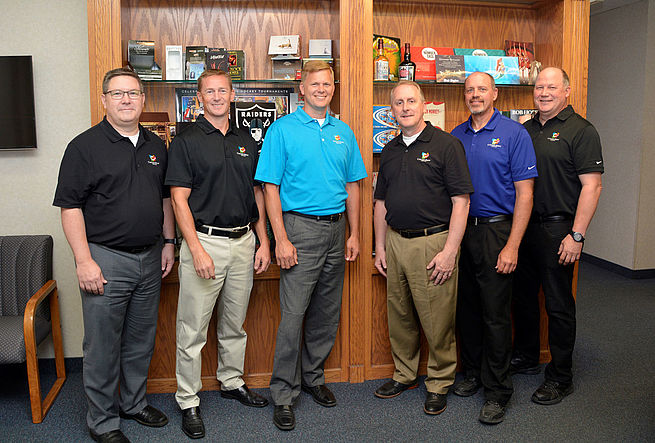 Ever since it was established the Carlson Print Group has set itself apart by offering specialized print techniques to some of the most exclusive brands in the country. Its goal is to deliver added value to a client's brand and products with unique mediums in print that differentiate them in their market and above their competition. Carlson uses a wide array of specialty print and coatings techniques in this endeavor, such as its Cast n' Cure, lenticular, texture/soft touch, motion coat, pearlescent, color foil, reticulating varnish, and Chrome FX. It offers extensive pattern options to add prisms of color on any print or packaging piece. Lately, its clients have been increasingly requesting the ability to involve the senses through eyesight and touch, which might involve special raised coatings.
Having this palette of choices available to its customers, Carlson chose the popular medium-sized Rapida 105 PRO to give it the ability to run these complicated jobs faster through the plant, using less makeready, and ultimately provide on-demand solutions. Press operators are eagerly awaiting the arrival of the new press because its new, intuitive operating concept allows all functions to be controlled via touchscreen.
"Internally, we have performed in-depth analysis and found that the Rapida 105 PRO will increase our productivity," says Earl Guinter, Carlson's sales manager. With a larger standard sheet format of 29 x 41 in and reaching speeds of 17,000 sph, the latest model at Carlson will give them the size and speed to increase its growing capacity needs. One of the Rapida 105 PRO's key features, which addresses this concern, is the full preset capabilities from the feeder through the printing units to delivery. All of the settings at the feeder and delivery can be stored according to job type, which can be leveraged with repeat jobs or orders printed on the same substrate.
The highest quality color is one of Carlson's biggest targets that always requires its greatest attention, says Guinter. For example, a new account in the high-end cosmetic market that demands super critical color for its print projects will be a perfect fit for the new press, he says. Equipped with a trio of superior color control systems--- ErgoTronic Color Control, ErgoTronic LAB, QualiTronic Color Control---the new Rapida 105 PRO will provide Carlson's press operators with color control that insures that their printed product maintains superior color consistency from the beginning of their production run to the end. These systems will also give Carlson the ability to measure print quality and execute automatic color correction with QualiTronic ColorControl inline measuring equipment. This new holistic color control will be ideal for ensuring perfect customer press checks.
To better answer its clients' ideas and requirements, Carlson has become a leading expert in printing on the latest substrates, and using a variety of inks, coatings and finishes to allow them to create beautiful, customized print pieces. One of its many highlights is its ability to print lenticular, in which special lenses are used to produce printed images with an illusion of depth, or the ability to change or move as the image is viewed from different angles, which clients use as a powerful tool to reach out and demand attention. Giving it maximum ability and flexibility to use these different substrates is a Koenig & Bauer exclusive package for board, plastic, and lightweight on the new Rapida 105 PRO. Operators will enjoy the press' gripper systems that do not need adjusting even when making extreme substrate changes.
With this ability to print on a variety of substrates, Carlson specified that the new Koenig & Bauer Rapida 105 PRO be equipped with LED-UV lamps. "LED-UV is ideal for all of our applications. We look forward to enjoying all of its many benefits," says Guinter. "Our firm prides itself on being technically relevant with the latest trends, all in an effort to meet the demands of our customers. Having the press equipped with LED-UV lamps enables us to continue to use different substrates, such as plastics, that will provide amazing results and won't be prone to drying or distortion."
Behind the creative and unique printed pieces, Carlson Print Group has assembled a dedicated team of over 100 employees to produce its award-winning work. No stranger to the award's stage, Carlson recently won two Gold Ink awards for its Marvel Universe Live Program and its annual calendar, which Carlson uses to showcase its specialized printing and finishing techniques. Previous calendars have utilized inline cold foil, Cast n' Cure coating, Soft Touch gloss, texture coatings, embossing, and matte varnishes.
Once the new Koenig & Bauer Rapida 105 PRO is operational this fall at Carlson's 74,000 sq ft facility, management believes it will open doors to even more high-end packaging opportunities.
"What really made a difference in our decision to partner with Koenig & Bauer for the first time were the similarities between our two companies," recalls Guinter. "Both of our firms have expanded into new exciting markets. Both of our companies keep up-to-date on the latest trends and technical solutions that help us become more competitive and profitable in our businesses."
Carlson Print Group is pioneering new dimensions in print with the latest in imaging and finishing technologies. The Eden Prairie, MN firm prints on virtually any substrate, from the lightweight paper publication grades to a variety of synthetics including various forms of plastic. No matter what the job, from short run digital solutions to large-scale litho print projects, the quality of its work is matched only by its dedication to service.