An inline perfector has saved over 10 million impressions of back printing in one year on its Koenig & Bauer press
A custom drying system is called a game changer because it provides extra capabilities on a host of applications
An inline Koenig & Bauer QualiTronic system is delivering optimum critical color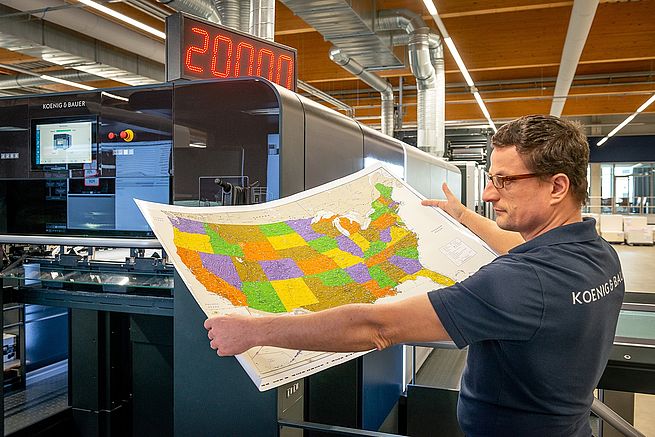 Over the past decade, bright minds within the research and development team at Koenig & Bauer have been working in overdrive to launch new automated press features. These developments have taken presses to higher speeds, more efficiencies, and better quality. Of course, Koenig & Bauer's customer base of some of the most elite and savvy printers in the world have their own opinions on the latest and greatest features. When the company posed the question, "What's the one essential feature on your Rapida press that your company can't live without?", customers readily answered with a variety of thoughts.
"We received so many different responses," says Chris Travis, Koenig & Bauer's director of technology. "Our customers are finding dramatic increases in production, pinpoint color & register, reduction in waste and expanded capabilities. Our ultimate goal is to always provide the highest level of consultation/support through the sales process to help configure a press to achieve what they print now and what they will print in the future."
Saving over 10 million impressions
When a printer can save over 10 million impressions of back printing with its inline perfector in one year on its Koenig & Bauer press, other printers take notice. For TPC Printing & Packaging, a high-end producer of packages for the luxury market, its perfector between units two and three on its 10-color Rapida 105 has been its essential feature.
"We have interdeck LED curing on all units and we have successfully printed full solids using units one and two with LED curing on the back side before applying eight-colors plus coating on the top side," says Joseph A. Schmissrauter III, president of TPC. "This feature has worked very well for our cosmetic and fragrance, health and beauty, and over-the-counter pharmaceutical accounts. Our press was installed and commissioned in July 2020 and we have already saved over 10,000,000 impressions of back printing with our in-line perfector."
Delivering optimum critical color
Growth in luxury packaging has exploded and continues to accelerate. To deliver optimum critical color for its high-end clientele, says Mike Clark, president of Mittera New York, the firm depends on its inline Koenig & Bauer QualiTronic Color Control system. The system's camera measures a complete color bar on every sheet going through the press to ensure consistent color. "This is a very big deal for our packaging customers because they don't want consumers to see a difference in color from box to box on a store shelf," says Clark. "Color can have a psychological impact on the consumer. For example, if you're looking at a shelf full of products where you associate a color with a brand and that color varies within its own group, your brain will register an interruption which can signal poor quality. Our luxury customers expect below a 2 Delta e or better! Because the QualiTronic Color Control system is capable of holding color below a 1.0 Δe, I believe it is one of the best features on this press."
Game-changing custom dryer package
When Standard Printing sought more efficiency and capacity to maintain support of its key customer base, the Canton, OH firm turned to its press partner, Koenig & Bauer, for a second new Rapida 164 six-color plus coater. "We've got a couple of game changers on the 2021 press," says Jim Wessels, Standard's pressroom manager. "We believe that Koenig & Bauer's DriveTronic SIS (Sensoric Infeed System) is absolutely essential on any press. It automatically aligns every single sheet calmly and effortlessly. The custom drying package, VariDry, because it has improved our internal production providing us with faster run speeds for our extra heavy coverage jobs. Now we can easily print a 70 lb label that used to be more challenging and deliver it without marking and scratching. When we run a sheet with heavy coverage, the custom VariDry configuration allows the sheets to come out dry."
"These features are certainly essential for our production," he says. "Our turnaround time is faster, we have better speed in the delivery, it's made a big difference for us. These features have certainly contributed to improving our workflow."
Exact match of brand colors
Catering to its elite list of premium packaging customers requires Huston Patterson to have a competitive edge over its competition. Its latest press, a new Koenig & Bauer Rapida 164 64-inch eight-color model, is equipped with QualiTronic ColorControl, a popular technology—and essential feature---that utilizes a camera system installed after the last printing or coating unit. The system permits automatic measurements of optical density in the freshly printed color bars. These measurement values serve as a basis for fast dynamic inline control of the ink key settings.
"It's a very important capability for us to have on our press because it gives us the ability to match our client's specific brand colors on their printed jobs," says Tonya Kowa-Morelli, Huston Patterson's president. "We're producing top-notch color critical packaging that can be found up and down the aisles of any retailer such as a local grocery store, pharmacy, Walmart, and Amazon. Our new Rapida 164 has the speed, automation, and color control features that can produce more efficiently for our higher-end color critical work. In particular, Koenig & Bauer's QualiTronic color management system with inline camera allows us to excel at efficiently matching color and producing jobs built with five, six, seven or more PMS colors. We have to meet the demands of our clients and the Koenig & Bauer color management system ensures we exceed their expectations."
Net throughput
At Kenmore Envelope, speed wins. The Richmond, VA firm produces high-quality, quick turn, special effect envelopes that make an impact, capture attention and build brand awareness and loyalty. When asked to name an essential feature on its Koenig & Bauer Rapida 106 LED-UV six-color press, Kenmore Envelope Company was quick to nominate its RS106 reel sheeter from Mabeg. It eliminates the process of cutting sheets offline and provides Kenmore's customers with the benefit of speed and competitive pricing using economical paper rolls.
"The RS106 allows us to reduce touches, gives us more flexibility with procurement of supplies, and quicker turns for clients," says Kristin Ogo, Chief Operating Officer at Kenmore Envelope Company.
Not one but five essential features
The Carlson Print Group, a pioneer of specialty print products, packaging solutions, and finishing technologies, is utilizing its new Koenig & Bauer Rapida 105 PRO press as its centerpiece workhorse machine, providing its exceptional customers with the definitive advantage of high quality, color consistency, embellishments, speed and quick changeovers. It's no wonder that the customer could not name just one essential feature on its press.
"Our two main press operators found five essential features that they could not live without," says Earl Guinter, Carlson's sales manager. "They are: continuous feeding and delivery – quick change; the color control systems both online & inline; wider fountains that hold more ink; roller train – quick reacting; and delivery with dynamic sheet breaks."
Interesting website: www.koenig-bauer.com