EPPB sees greater advantage in the corrugated box market as press will print directly onto E flute
Management estimates that the new Rapida 145 will produce 35% more than its two current machines combined with just one crew running the equipment
Excellent relationship with the entire Koenig & Bauer team sealed the decision to purchase the new Rapida 145 press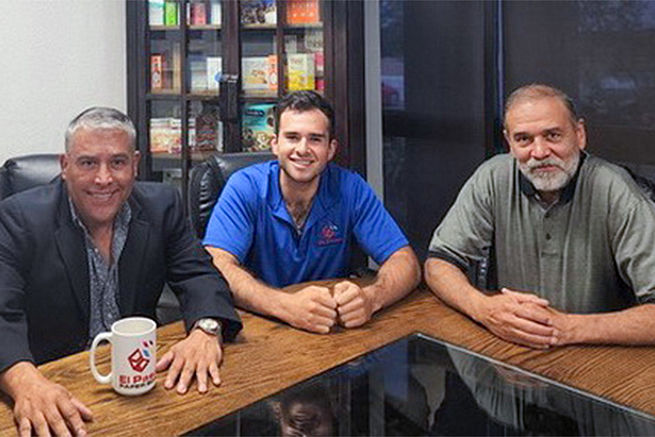 In the past 36 months, El Paso Paper Box has experienced its most explosive growth and unprecedented sales since it was established in 1995. To maintain its position as one of the dominate players in the folding carton marketplace, the Texas-based firm expanded its capital investment plan by adding a host of new innovative technology.
"We followed a very deliberate strategy to invest in our employees and our equipment along with a lot of hard work," says John Dowd, executive vice president at El Paso Paper Box. "Some of the growth was organic, but a significant portion was due to new customers as a direct result of our approach."
With the company and its 184 employees operating at an all-time high level, it was time to look more closely at its stable of presses. El Paso is successfully operating a Koenig & Bauer Rapida 106 41-inch seven-color full inline UV perfector press along with two older models. But as the folding carton market continues to grow and legislation limiting single use plastic broadens the demand for paper-based packaging, there were a lot of positive reasons to add a large format machine, most notably newer technology, a larger print area to improve efficiency and capacity, and faster speeds. Plus, it would give the firm entry into the growing corrugated box market. With those reasons in mind, it didn't take El Paso's management long to choose to add a new Koenig & Bauer Rapida 145 seven-color press and retire its two older models.
"The Koenig & Bauer Rapida 145 is a new format for us," says Paul Malooly, EPPB president and CEO. "We spent a considerable amount of time looking at the market, and we always came back to Koenig & Bauer. Due to being equipped with the latest technology, we expect our quality levels to increase as well. As important, this machine will also be able to produce direct printing on single wall E-flute corrugated substrate, which opens a lot of club-store packaging opportunities for us."
The management team conducted a very thorough audit and comparison of its current presses and investing in the newest press. "The new Rapida 145 will run at double the speed compared to our older press from a different manufacturer," says Carlos Espinoza, EPPB vice president and general manager. "The wider format will create additional throughput when compared to previous machines. Factoring a 2X speed increase plus gain on area, this machine will make 35% more than the two other machines combined with just one crew running the equipment. This also impacts the sheeting and cutting department as they will benefit with a larger number of cartons with the same number of sheets."
After the new Rapida 145's installation, EPPB foresees plant capacity to be balanced between the two formats: the 106 41-inch and the 145 57-inch. Management anticipates both machines will run about the same number of hours leaving extra capacity. Product will be scheduled for the machine thus providing maximum efficiency. Depending on order volumes, an item that originally ran on the Rapida 106 or an older press could be "moved up" to run more efficiently on the Rapida 145. "I suspect there will be many items that make the transition to the larger format," adds Dowd.
The performance of EPPB's current Koenig & Bauer Rapida 106 press greatly influenced its decision to partner once again for the purchase of the Rapida 145. "Our Rapida 106 is a well maintained and very reliable piece of equipment," says Willie Sosa, EPPB's strategic projects manager. "We enjoy an excellent relationship with the entire Koenig & Bauer team from sales to parts to service."
Interesting website: www.eppbinc.com