High performance press technology "sets the standard", "works flawlessly", and "delivers the highest quality" say some of the most recognizable leading independent folding carton firms and the industry's top converters
Strategic focus on innovative solutions for package printing is its core strength with strong support from the Paperboard Packaging Council's (PPC) initiatives
Koenig & Bauer is the leading packaging press manufacturer with more than 205 years of delivering solid experience and superior customer service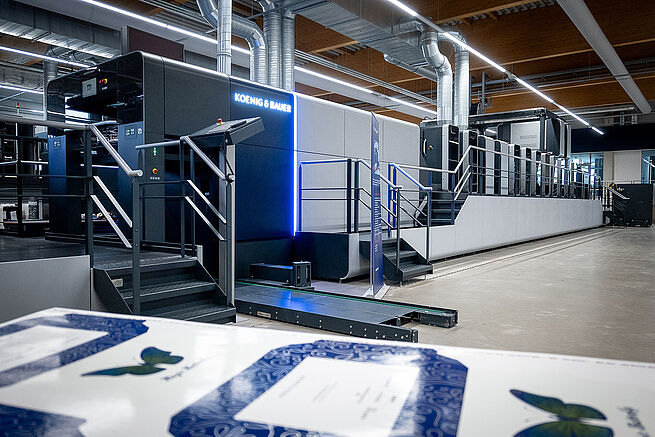 Titans of the packaging industry across North America such as the leading Fortune 500 independents and integrated folding carton converters, praise Koenig & Bauer and its line of sheetfed presses for its superior press technology, automation, speed, quality, and customization. Already an esteemed leader for more than 200 years in producing the finest presses for a variety of markets, Koenig & Bauer continues to solidify its pole position. But what specifically sets Koenig & Bauer apart?
These savvy packaging executives, some of the most recognizable from all market segments such as food, beverage, pharmaceutical, and beauty, have assessed different packaging press manufacturers and found that Koenig & Bauer is well positioned as the leader in high performance press technology, especially for the growing packaging market.
"We are always responding to key customer needs and opportunities," says Kilian Renschler, Koenig & Bauer's president and CEO. "We've established strong partnerships with our customers and support them with new technology and state-of-the-art equipment. Our sales team is known as trusted advisors in the folding carton industry. There's so much excitement about the folding carton industry. And our newest generation press and post press lines demonstrate our commitment to our customers and our continued investment in new technology and capabilities."
High performance press technology
First and foremost, leading world packaging manufacturing customers are attracted to Koenig & Bauer for its superior technology. Its high performance press technology positions packaging printers to yield a multitude of business opportunities. Packaging customers have a wide variety of press models to choose—from 41-inch to 64-inch. Its latest Rapida 106 X system is a stand-out among users, handling all the printing plates automatically and without manual intervention into the plate changer of the printing units and back to a discharge and collecting station. Options like this make packaging printers more efficient, especially for shorter run jobs.
World class packaging provider TPC Printing & Packaging describes its new Koenig & Bauer Rapida 105 PRO 10-color as a dream machine. "We are now running most of our cosmetic packaging that requires full coverage inside printing through the new press utilizing the perfector between units two and three and still having the ability to print eight-colors plus coating on the top side," says Joseph A. Schmissrauter III, president of the Chattanooga, TN-based firm. "Similarly, a lot of our work that was produced using MPE or traditional hot foil stamping is now being done in-line using the cold foil system on the new press."
The Koenig & Bauer Rapida 145 has exceeded expectations at Oliver Inc., a printing and packaging solutions provider, with profitability and growth into new market segments and has become the "go-to" press for the Long Island firm's food and pharmaceutical clients. The Rapida 145 is fully loaded with specialized systems such as its QualiTronic System Brunner Instrument Flight, an indispensable tool, says Nik Blake, Oliver's senior vice president of operations and general manager. The inclusion of the QualiTronic Instrument Flight system makes Oliver one of the printers in the U.S. with this special capability that emphasizes color balance and gray balance, taking into account more than 30 process variables.
Speed
As the global demand for packaged goods continues to increase, packaging printers continue to find it a necessity to generate the fastest speeds possible on press.
Protective Packaging, a leading South Carolina custom packaging printer, prides itself on delivering the highest quality folding cartons with ultra-short delivery times. "We're able to answer those demands with the new Rapida's higher speeds and much faster makeready," says Tom Price, president of Protective Packaging Inc. "Due to all of the high-end features on the press, we're at least 30% more efficient and can turn our jobs much faster. The array of custom features supports faster net sheets on our production floor through continuous running of the press."
The management team at El Paso Paper Box conducted a very thorough audit and comparison of its current presses and found that its new Rapida 145 will run at double the speed compared to its older press from a different manufacturer, according to Carlos Espinoza, EPPB vice president and general manager. "The wider format will create additional throughput when compared to previous machines," he says. "Factoring a 2X speed increase plus gain on area, this machine will make 35% more than the two other machines combined with just one crew running the equipment. This also impacts the sheeting and cutting department as they will benefit with a larger number of cartons with the same number of sheets."
Quality control
Another important factor that packaging leaders weigh is the quality control systems on press to produce their jobs. Inspection systems are critical for packaging producing leaders to ensure that each package looks alike. Koenig & Bauer's systems check and ensure the accuracy and quality of packaging materials throughout the whole print cycle, thus reducing waste material, saving time and improving the quality of their production.
The team at Litho Quebec can attest to Koenig & Bauer's superior quality control features. "Our new Rapida 105 is delivering the highest quality for our customers," says Bruce Zacard, co-owner at Litho Quebec. "We have equipped the press with quality control features that are only offered by Koenig & Bauer and can only be found in our pressroom. We have differentiated ourselves from any of our competitors."
Customization
Not all packaging printers are alike. That's why they seek out Koenig & Bauer to customize a press for their particular needs. Curtis Packaging, a leading producer, specified exactly which features it needed to deliver packaging for its high-end brands. "Having this Koenig & Bauer Rapida 106 41˝ 10-color double coater press specified in this unique configuration lets us print in one pass rather than two," says Kerry C. Brown, Vice President of Operations at Curtis Packaging Corporation. "It makes us more efficient and more innovative. It distinguishes us from our competitors. We already have a reputation for producing a higher level of complexity and innovation. We're pleased and humbled that brands seek us out to introduce and create new packaging with us. We have a fantastic group of supply partners that knock on our door wanting to launch products with us."
Quick response and experience of sales team and tech service
For its roster of packaging titans, Koenig & Bauer is known for its trusted sales team who advise customers on a variety of unique features only offered by Koenig & Bauer. These customers routinely re-invest with Koenig & Bauer due to its exceptional technology and the strong partnership forged together on their important capital investments.
Likewise, the expert service and support teams from Koenig and Bauer assist throughout the press ownership with parts and service technicians' availability. This is a driving factor to reduce maintenance and provide more uptime.
"Koenig & Bauer, and particularly Eric Frank, their SVP of Marketing, have demonstrated unwavering dedication and passionate support for the Paperboard Packaging Council (PPC) and the folding carton industry for many, many years," said Ben Markens, president of PPC, North America's association for the manufacturers of folding cartons. "As a longtime Diamond Sponsor, Koenig & Bauer has made a significant investment in the work we do and the people we serve." Markens continued, "I have had the pleasure of working alongside numerous volunteer leaders in my career, and Eric's commitment stands out as exceptional. Not only has he sat on our Board of Directors since 2016, but he also serves on our membership, marketing, and supplier committees, and he teaches at our twice-annual Folding Carton Boot Camps. Eric Frank's contributions to PPC have been immeasurable, and I am grateful for his steadfast support."