New Rapida 164 will be running 24/7 producing litho-lam labels, litho-lam top sheets, and folding carton work
Large press format boosts capacity and makeready by 50%, develops opportunities and generates more business
Superior Litho partners with Koenig & Bauer for its fourth Rapida press
Business is strong and growing at premier packaging specialist Superior Lithographics. Its 110,000 sq ft facility in Southern California hums with activity, producing high quality large format litho and top sheets for the corrugated box industry and printing and converting folding cartons for these dual fast-growing markets. Later this year, the pressroom will increase its output with a new Koenig & Bauer Rapida 164 64-inch seven-color offset press.
Superior's management team has long believed in product diversification and capital investment to maintain its steady growth and leadership position. Recently it's found new opportunities in the folding carton market, which has fuelled the necessity for additional press capacity. The team is eager for the new Rapida press to arrive and 'flip the switch' to see its newest large format machine begin production.
"Our plan is to run the new press 24/7, printing anything and everything that helps our customers grow their brand awareness and allows increased speed to market," says Jeff Ku, Superior's Vice President of Operations. "It will be used for all three categories: litho-lam labels, litho-lam top sheets, and folding carton work."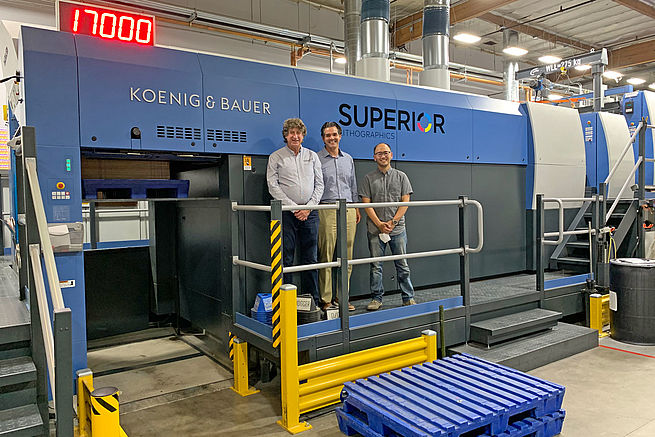 As a long-time Koenig & Bauer customer, Superior's massive pressroom floor features a full suite of its presses. Its most recent delivery in the summer of 2019 was a Rapida 145 57-inch seven color press, which tripled its overall job throughput and impression output. The firm also operates a Rapida 162a 64-inch six-color press and a Rapida 205 81-inch 5-color press, both with UV curing capabilities. Superior plans to keep all four Rapidas operating, which will provide the greatest flexibility and ability to ensure the fastest job turnaround.
Doug Rawson, Founder and CEO, expects the new Rapida press to significantly impact his business and the markets they serve. "It will provide a massive 50% increase in capacity," he says, "and will help to train our operators on next-gen technology similar to our recent Rapida 145 addition. The new press will also dramatically decrease our makeready times by 50%."
Both of its newest press models are configured as seven-color models, thus allowing for expanded color gamut, custom brand colors, and enhanced photographic images. Its clients, such as name brands in the food market, expect their products to match box-to-box on the retail shelf and look enticing to consumers. Superior has also developed proprietary processes for certain combinations of varnishes and coating, which the seventh printing unit will allow.
"Ever since our prior Rapida 145 installation, we've witnessed incredible improvements within our facility," says Ku. "We believe this new Rapida press will provide our customers and our company with exceptional results that will pave a path towards our vision."