Burlington, Ontario, Canada firm is pursuing longer run, higher volume markets
Since it purchased its Koenig & Bauer die cutter, its die cutting volume has doubled
Recent acquisition of Clearpak's clear rigid carton manufacturer's assets has necessitated extra capacity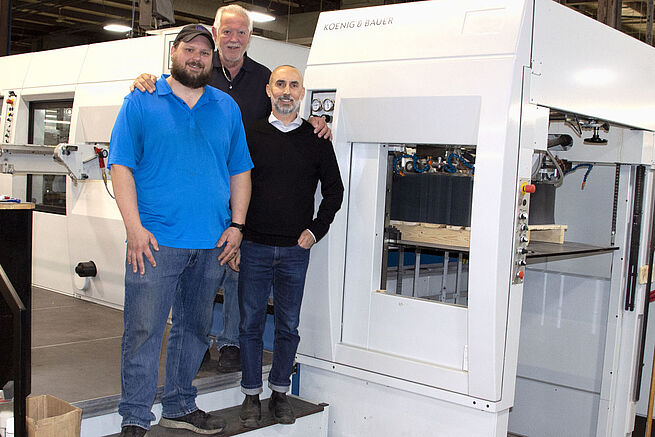 As Jerry Theoret, president and CEO of Battlefield Press, continues to rapidly scale up his business, his need for additional high-volume equipment continues. The Burlington, Ontario, Canada firm, headquartered in a 45,000 sq ft facility, recently acquired the assets of Clearpak, a leading manufacturer of clear plastic retail folding cartons, boxes, tubes, shelf flags and displays for Canada, United States, Mexico. This acquisition moved Battlefield into clear rigid carton manufacturing and necessitated the need for an additional die cutter as has its dramatic targeting of the folding carton market. To boost its postpress production, Battlefield purchased a second Koenig & Bauer die cutter—an Ipress 106 K PRO.
"We are one of North America's most experienced and technologically advanced full-service offset printers," says Theoret. "Our jobs go right from the press to the finishing room for die-cutting and gluing, ensuring quality, speed and compliance. Ever since we bought our first Koenig & Bauer die cutter, our volume has doubled."
The new blanker Ipress 106 K PRO is the most advanced blanker for customers who look for high speed production perfectly combined with exceptional registration, high quality standards, and easy handling and fast preparation. It can be equipped with the new OPMR (Optical Print Mark Register) for the front and side-lays registration. A fully automatic non-stop feeder and a full logistics system, completely removes manual handling of incoming and outgoing piles. The versatility of the Ipress PRO series provides the ability to die-cut several types of substrates including paper, plastic, board and corrugated material. The comprehensive range of optional equipment allows the configuration of the perfect die-cutter giving customers the ideal machine for all of their requirements.
"Our partnership with Koenig & Bauer continues to strengthen," says Theoret. "We've found that the entire team is comprised of trusted advisors that are very knowledgeable on helping our company grow. In particular, we enjoy working with Tom Fitzgerald and Aleks Lajtman, who's advice and guidance demonstrates our true partnership."
Interesting website: www.battlefield.press