Comparing it to a Ferrari sports car, the new 41-inch flagship press was delivered in summer 2022 to Lugoff, SC
Protective Packaging proclaims Koenig & Bauer the leading press manufacturer for folding carton production
Extraordinary service was rendered by Koenig & Bauer when called upon by Protective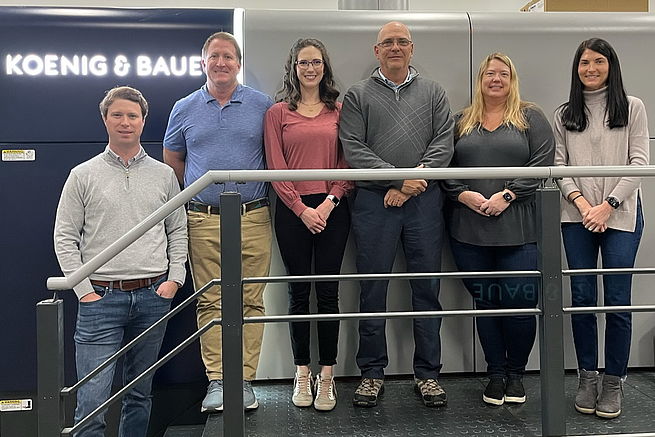 Coming off its best year ever in the history of the company, Protective Packaging, a Lugoff, SC custom packaging printer, headquartered outside of Columbia, is astonishing its customers with its new generation mid-format Koenig & Bauer Rapida 106 six-color press—the first in the U.S. The new 41-inch flagship press with its distinctive design and groundbreaking technology was delivered in summer 2022 to the firm's 130,000 sq ft facility where it operates alongside a Koenig & Bauer Rapida 106 installed in 2019.
"Our customers depend on us to deliver the highest quality folding cartons with ultra-short delivery times," says Tom Price, president of Protective Packaging Inc. "We're able to answer those demands with the new Rapida's higher speeds and much faster makeready. Due to all of the high-end features on the press, we're at least 30% more efficient and can turn our jobs much faster. The array of custom features supports faster net sheets on our production floor through continuous running of the press."
Protective's customers are equally impressed with the new Rapida press. When they visit for press checks, customers and prospects alike are impressed with the Koenig & Bauer's superior quality as well as its enhanced color control system, which automatically provides operators with color measurement and control as well as intricate and detailed report systems.
Over the past few years, Price has learned first-hand how reliable and quick reacting the Koenig & Bauer sales and service team truly is. When Protective experienced a horrible fire at its facility, Price needed a new replacement press to quickly be delivered and to repair his 2019 Koenig & Bauer press. Koenig & Bauer answered the call, with Sam Creel, his sales manager and trusted advisor, arranging to get a new press delivered sooner than expected, and sending in its knowledgeable service team to order parts for the existing press, which had experienced water and smoke damage.
"There's no denying that a mid-size company like ours requires two printing presses," says Price. "After operating two Koenig & Bauer presses and witnessing their superb customer service, I can unequivocally say that they are the leading press manufacturer for folding cartons."