A reputation as a high-quality, quick-turnaround, customer-centric printer
New Rapida press will increase performance for packaging segment's longer run lengths with more automation and faster running speeds
New press asset with integrated UV drying technology opens up availability to serve additional market segments
Fueled with record-setting customer orders, in the fourth quarter of 2020, Philipp Litho found itself in the enviable position of upgrading its existing large format capabilities and its diverse and impressive press arsenal at its headquarters in Grafton, WI. To demonstrate its strong commitment to its packaging and point-of-sale customers, the ultra-high-quality large-format printer recently completed the installation of its latest Koenig & Bauer Rapida 164 six-color large-format press.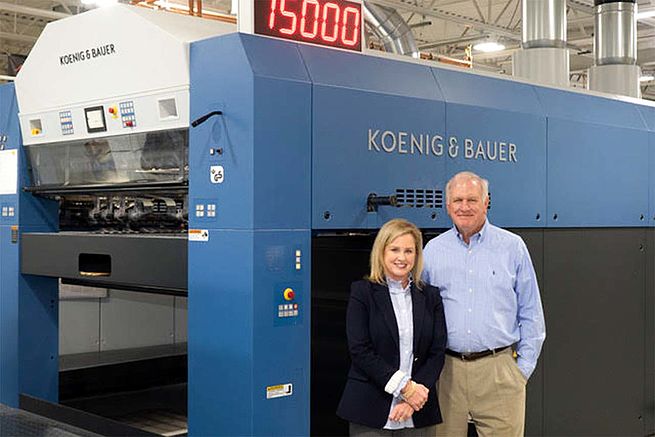 "After more than a century of printing excellence, we have built a reputation as a technologically advanced, high quality, quick turn printer," says Stacy Buening, president of the family-owned business. "We seek to exceed the high expectations set by our customers. With our new 64-inch Rapida 164, we're integrating all of Koenig & Bauer's newest technological advancements to make us even more flexible and efficient in today's fast-moving market."
As Philipp Litho balances its growth between existing loyal customers while welcoming new clients to its fold, it was the perfect time to invest in a new press. Both its customers and its own internal market research pointed toward the need for greater press capacity, faster running speeds, and simultaneous processes—all of which will ensure their long-term customer-driven growth strategy.
"This will be our fourth Koenig & Bauer large-format press in the past 19 years," says Peter Buening, Philipp's CEO. "It will give us even more flexibility and allow us to run companion forms across all press platforms with perfect color consistency. Our previous Koenig & Bauer press installation was a 57-inch Rapida. We saw the speed and efficiency we gained with that press and now, with the new 64-inch press, we will be even more productive."
The Rapida's advanced automation gives Philipp the broader flexibility to accommodate its expanding packaging business. Calling the Koenig & Bauer QualiTronic ColorControl system a "game-changer", Peter Buening emphasizes that the system's ultra-quick read of color allows the press to make adjustments on the fly ensuring more consistent and efficient production. Its camera system allows automatic measurements of optical density in the color bars, which serve as a basis for immediate inline control of the ink key settings. QualiTronic QualityPass supports the additional speed and productivity of the new Rapida by issuing key production reports to document ink densities, spectral values and dot gain.
In addition to standard ink and water-based coating capabilities, the new press also has UV capabilities for both printing inks and coatings. Philipp sees even greater opportunities in the UV market. The firm can currently run UV on its Rapida 205 81-inch press but can now add more business beyond litho label with smaller specialty projects that call for UV. "UV is a growing market for us," says Stacy Buening, "We're getting more inquiries, customers are reaching out to us, and UV is piquing their interest in what it can do. It is definitely an area that will support our growth."
Due to the variety of its customers' needs, the firm included a lightweight paper package, which allows Philipp the flexibility to run litho label stock as light as 60 lb up to 24 pt board stock. While the majority of Philipp's work is run on 80# and 95# coated-one-side litho label stock, the company also has a significant focus on servicing the corrugated industry with 10-12 pt. top sheets which are later mounted to single face corrugated by its customer during the conversion process.
Philipp Litho is proud to be a long-time Koenig & Bauer customer, having invested in Rapida presses since the 1990s. "A key factor in choosing Koenig & Bauer is how the company delivers on its promise of manufacturing the world's best press with custom features to meet our exact needs to help us differentiate ourselves in the market," says Peter Buening.
Steve Korn, the Koenig & Bauer director of national and key accounts, says, "This capital investment signals that Philipp Litho, one of the oldest independent family packaging printing companies in North America is once again making a significant investment for its clients to drive further improvement and to answer the capacity needs due to Philipp Litho's growing customer base and increasing sales volume. We congratulate the Buening family and their dedicated team of customer-centric employees on their fourth Koenig & Bauer press investment and the step-change technology advancements that come with it--this time for another large-format 64˝ press providing even greater speed to market and special effects for their large-format market space clients."
He continues, "We cherish the genuine partnership and trust that we've created together over so many years with Philipp Litho. We are certain that this new Koenig & Bauer press will help to efficiently move more projects through production, fuel future growth, and continue Philipp Litho's legacy as one of the highest quality printing and on-time service organizations for many years to come."
Interesting website: www.philipplitho.com