Canadian manufacturer anticipates expansion into high quality markets
New Koenig & Bauer XG LR flexo press, part of the firm's growth initiative, will produce 50-60% of the company's products
Awaiting 2024 delivery at its 80,000 sq ft Prince Edward Island facility

Ever since it was founded in 1935, PEI Bag has continued to flourish as a full-service packaging company, partnering with industry leaders in the agriculture, aquaculture, and dry goods markets to supply potato bags, produce bags, and dry goods bags. Now, in its 88th year and still in the capable hands of the firm's original fourth-generation descendants, PEI Bag is taking on one of its most ambitious plans yet: a comprehensive growth initiative known as NEXT. Part of the multi-million investment set aside funds for new converting equipment that includes the purchase of a new CI flexographic printing press: a Koenig & Bauer XG LR CI eight-color press.
"After educating ourselves on new CI flexographic printing presses and a thorough review and evaluation of models available from six different press manufacturers, Koenig & Bauer became our top choice," says Thane Smallwood, PEI's general manager. "Our board of directors met last November 2022 and, on behalf of our shareholders, approved the purchase of the new press, our first new model in many years."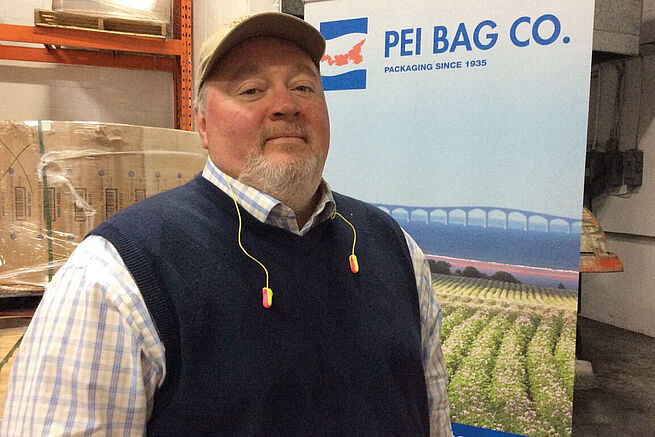 The new Koenig & Bauer press will be operating beside a used 2010 Flexotecnica XD eight-color press, which was installed in 2019. A 2006-purchased Italian Galaxy gear driven eight color will be removed to make room for the new Koenig & Bauer XG LR. At the end of this phase, PEI Bag will be operating two flexo printing presses from Koenig & Bauer. The new eight-color XG LR will print a large portion of PEI's larger repeat bags, but the firm will continue to use the 2010 press for its other for smaller repeat jobs. Management foresees the new XG LR producing 50-60% of the firm's work due to its high speed, increased flexibility, and faster automated wash-ups and clean-ups.
PEI Bag's XG LR highly automated CI flexo press is configured with eight print stations and a printing repeat length of 1,250 mm. It delivers top productivity and quality, even with large print runs at production speeds of up to 600 m/min. Its systematic automation as well as its sturdy and ergonomically well thought-out design allow top performance in quality and productivity. Its exceedingly smooth operation, even at maximum speed, guarantees extremely consistent register.
PEI's management team highly anticipates the many positive attributes the new press will deliver to them. "The XG LR will give us efficiency and productivity capabilities to take on more business from our current customers and allow us to better serve them," says Smallwood. "The increased capacity will allow us to meet the increased demand for paper packaging. Most of our work is preprinted roll stock for our converting machines but we feel we can sell printed roll stock to other converters as well. The new press will provide improved capabilities and allow us to take on new customers that may have different substates than just paper."
Our customers' quality expectations have increased, adds Smallwood, along with the demand for higher graphics and repeatability from production run to production run. The firm is also seeing a growing trend for more information printed on the bag and another trend toward smaller package sizes putting pressure on higher print quality. Customers are also utilizing new substrates and finishes on their bags, says Smallwood, and the new Koenig & Bauer press will allow them to achieve these solutions.
Providing a new workplace and expert training is also part of PEI's plan for its own employees. PEI is providing a significant amount of Flexographic Technical Association (FTA) training on the new press that will coincide with Koenig & Bauer training.
"From our plant in Prince Edward Island on Canada's East Coast, we supply customers across the country and export products to the United States," says Smallwood. "Our clients range from large international corporations to individuals who need a small quantity of bags. Many of our customers are food dealers who operate sophisticated packaging warehouses and ship large volumes of food products. Our customer service team are on hand to work with clients to determine and provide the type and quantity of packaging their business requires. The new Koenig & Bauer XG LR CI eight-color press will be key in fulfilling orders for all of our customers."