Newest generation Rapida press model operating at 20,000 sph is part of a strategic $15 million investment
Purpose built specialty press for the in-mold label market with proprietary in-mold features and benefits only available from Koenig & Bauer
Combination system for using and/or exchanging out either UV and LED energy to dry ink inline depending on customer requirements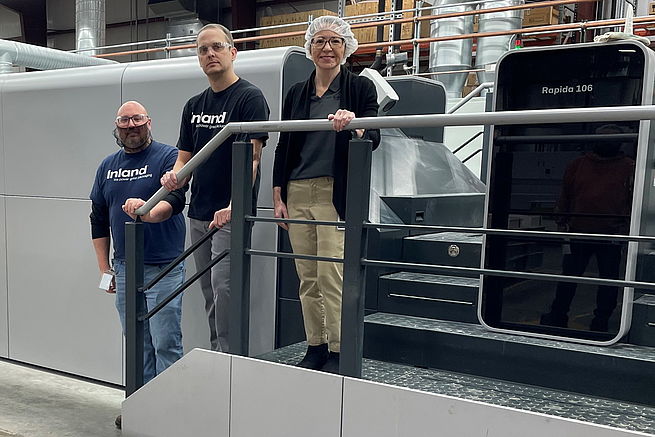 When Inland Packaging opened its third new 40,000 sq ft manufacturing facility in La Crosse, WI, the domestic label and packaging manufacturer ensured that its $15 million dollar equipment investments included a unique high speed, specially built press for the in-mold label market. To provide the finest service to its customers, management chose the pinnacle of premium offset press technology available on the market--its first Koenig & Bauer, a Rapida 106X UV LED nine color plus coater —as the centerpiece of its newest production facility.
"Our state-of-the-art press and finishing equipment have opened additional capacity with increased productivity and efficiency," says Amy Mashak, Director of Operations at Inland. "This additional capacity is allowing Inland to better serve growing markets and exceed customer demand."
Inland is consistently recognized for its high-quality label and packaging production. Most recently, the firm was awarded two American Package Design Awards from Graphic Design USA for its labels. Additionally, the GAA named Inland a winner in the 2022 Golden Cylinder Award for its Nesquik in-mold label.
To maintain this high level of superior quality for Inland's demanding clientele, the firm ensured that the new Rapida press was equipped with features that would produce award winning quality color products. Color accuracy and consistency is something Inland has dedicated multiple years to ensuring that it meets its customers' satisfaction. Inland's press is equipped with a suite of Koenig & Bauer color control systems such as the ErgoTronic Color Control, ErgoTronic LAB, ErgoTronic PSO match, Qualitronic Inline Color Control, QualiTronic PrintCheck, ErgoTronic ACR (video camera for register control), and ErgoTronic Image Zoom (video magnifier and tester). One particular feature of the press that has been extremely valuable, says Mashak, is its ability to produce detailed reports for managing color, both inline and offline. These important reports align with Inland's objective of meeting the demands of its customers.
The new Rapida press is loaded with additional outstanding features. These include a custom Koenig & Bauer VariDry configuration specifically tailored for Inland's needs now and in the future including LED UV, UV, IR, Hot Air and Cold Air for UV or LED or water based coating processes inline as its customer work may require; plus all VariDry drying elements were manufactured, guaranteed, and process supported by Koenig & Bauer to assure dependability. Additionally the press is equipped with an inline roll sheeter to efficiently produce from rolls on one end of the press to finished sheets out the other; simultaneous plate change for all nine printing units in under 50 seconds; Data Matrix Camera for plate confirmation and recognition; and Drivetronic SRW (washing unused printing units while press is in production with another job).
Inland puts a high priority on training and education for its team members. Management evaluated several offset press manufacturers before selecting Koenig and Bauer due to the learning and education built into the press consoles.
"Multiple standard procedures from the infeed to delivery are built into the press consoles to aid and guide our press operators without the need for external documents," says Mashak. "This is helpful for all internal team members but particular useful for our new hires who are being trained through the program."
The service and support model presented from Koenig and Bauer for parts and service technicians' availability and turn time also was a driving factor for the decision to purchase a Koenig & Bauer Rapida press.
Steve Korn, Koenig & Bauer's Director of National and Key Accounts, adds, "This new Koenig & Bauer Rapida 106X press investment made by Inland Packaging signals, once again, that one of the most well-known printers in the in-mold label market has made the switch to Koenig & Bauer. We are so very proud that Inland Packaging has chosen to invest with Koenig & Bauer to provide access to higher technology for its existing and growing roster of in-mold label clients. We are truly honored to be part of Inland Packaging's capital investment strategy. This investment will drive further manufacturing efficiencies and provide greater capacity with the latest industry leading sheetfed press technology."
He continues, "We at Koenig & Bauer (US) appreciate the new partnership that we've forged with Inland Packaging. We congratulate Mark Glendenning and his entire team on what they've accomplished, their remarkable growth in both sales and new physical facilities, and even more important, on their extremely talented associates who relentlessly focus on customer service and satisfaction each and every day. We are certain that this new Koenig & Bauer Rapida 106X press will efficiently drive more volume through Inland Packaging's production facility, fuel ongoing growth, and continue Inland Packaging's high quality and on-time service for many years to come."