Event promises to provide benefits, new ideas, and profitable takeaways
Latest advances in new coating applications, cold foil, and a new generation of special UV embellishments will be discussed
Some exciting pre-drupa news will be unveiled by Koenig & Bauer representatives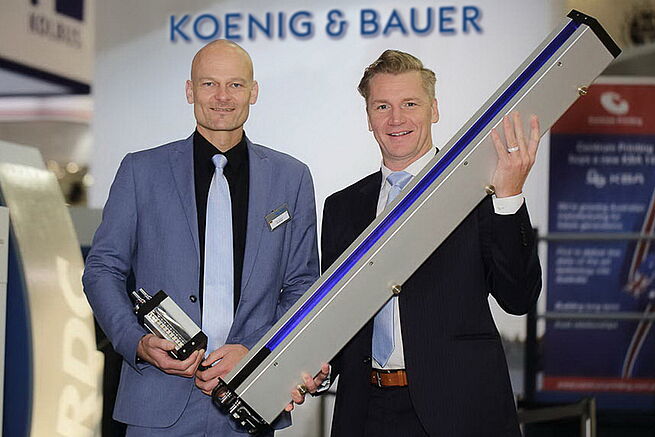 Long-time platinum sponsor Koenig & Bauer is pleased to continue its steadfast backing as an original event supporter and is sending two of its most knowledgeable technical representatives to attend the 15th annual PRINT UV 2023 conference in Las Vegas. It will be held May 2-4 at the Encore by Wynn resort in Las Vegas. Both Chris Travis, Koenig & Bauer's director of technology, and Dirk Winkler, Koenig & Bauer's head of process engineering, product management and product marketing, will be representing the company during the three-day event.
"PRINT UV 2023 is one of the prime networking events to reconnect with peers, learn innovative coating applications and UV embellishments to better compete in the marketplace, and hear about the latest advancements in our industry," says Chris Travis. "Dirk and I enjoy participating in this annual conference because it brings together the best UV printers in the country where they can learn about the newest trends and how to accelerate their profits in this fast-changing print market. We guarantee that every attendee will go back to their business with some new benefit or idea to support their pressroom."
Koenig & Bauer is proud of its unwavering support of this technology and the benefits it derives to its customers. Printers continue to see high value and success in UV usage, allowing them to increase additional specialty coatings for their clients. These include such differentiators as flood gloss and dull UV, spot gloss and spot dull UV, strike thru UV, reticulating UV, and textures such as sandpaper. UV capabilities provide a unique advantage over their competitors and allow them to meet the growing demands of their clients in order to ensure the highest value and ultimate customer satisfaction.
"We join other experienced UV practitioners providing new strategies from sales to manufacturing to the development of innovative new products and services," says Winkler. "It's been gratifying to see how UV has grown from a niche technology into a mainline process and we're pleased that our company has been such a staunch supporter from the very first conference to encourage, promote, and sustain the growth of UV printing in our graphic communications industry."