Proudly operating the first next generation large format press in North America
Record-setting one- to two-day turn times are opening many new doors to new markets
Unparalleled autonomous color control systems yield consistent quality results throughout the run with full job reporting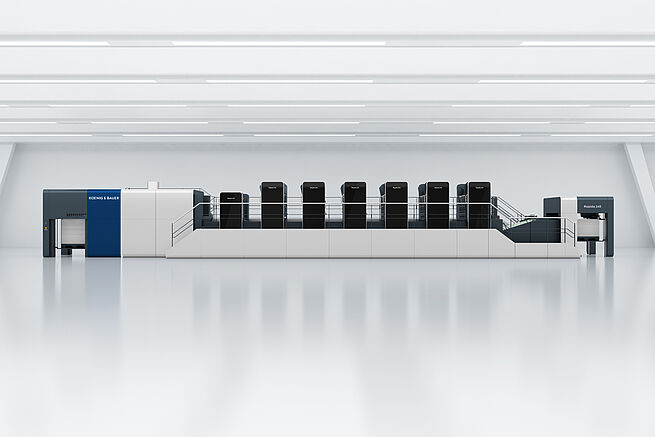 When you think of Indianapolis, what immediately comes to mind is the famed Indy 500 race, set to start its engines for the 107th running on May 28. But in the printing industry, Litho Press has put the city on the map, not only as one of the country's leading litho labels and litho laminate sheet producers, but for operating the very first new-gen Koenig & Bauer Rapida 145 57-inch six-color plus coater presses in the North America.
"Just like the high-performance cars that race around the track, we were seeking a new press that would give us the speed, precision, and control that our corrugated packaging and point-of-purchase customers demand," says Bernie Lacy, president of Litho Press. "Color consistency and speedy turn times are the main driving forces for our clients. The new Rapida 145 press is delivering and winning the race for us."
Since its installation less than six months ago, Litho Press has seen a dramatic increase in capacity—more than 25%—and able to schedule its litho label and litho lam sheets on two current shifts with the goal of three shifts as sales continue to grow. Most impressive have been the greatly reduced makeready times, less waste, and higher run speeds, all delivering with the highest print quality. With advanced automation and workflow solutions, the firm has been exceeding its clients' demanding schedules and reducing turnaround time in the record-setting time of one- to two-days.
One of the many impressive features of the new Rapida 145 is the unique inline Koenig & Bauer QualiTronic ColorControl quality measurement and control system that ensures consistent print quality. As a certified G7 Master Printer, Litho Press is dedicated to delivering the highest color management for its clients' products. Its proofing systems and presses are calibrated and maintained for optimal quality control, which provide consistent, accurate color from proof to print. Among its other unique innovations, the new Rapida 145 accepts unbent plates, which eliminates an extra step in pre-press.
"We have seen first-hand how Koenig & Bauer is committed to delivering the highest quality printing solutions and expert customer support," says Lacy. "Our innovative new press model from Koenig & Bauer is helping our company produce the finest print jobs for our clients for years to come," says Lacy. "Our management team carefully chose Koenig & Bauer for its high level of quality, service, and expert build quality. They've been extremely responsive to our needs. We're proud to be operating the first-of-its-kind in North America."
Interesting website: www.lithopress.com