Leading graphic arts manufacturer and strong industry supporter is eager to help increase your productivity and workflow by engaging in face-to-face meetings and networking
Invest with a firm that customers find demonstrates solid strong growth and success
Traditional German bratwurst and special beer brewed to honor the firm's 206 years will be offered in its comfortable lounge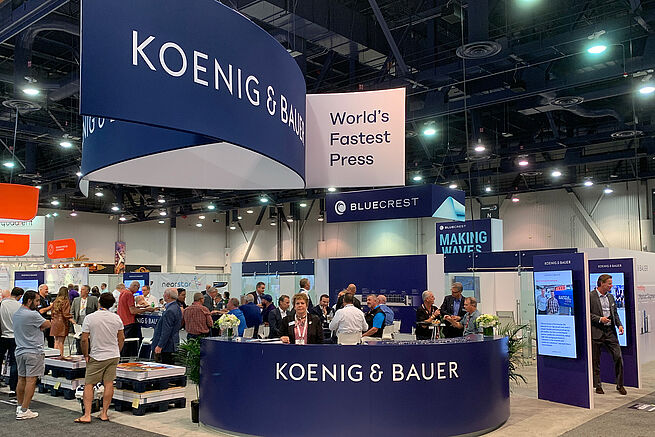 Have you started to make your plans to learn about the newest technology and solutions at PRINTING United, the premier all-encompassing graphic arts trade show in Atlanta? If so, make sure that Koenig & Bauer is your first stop. Here in Booth B1033 you'll have a chance to witness the vast range and new developments of an exciting array of equipment that will transform your business. PRINTING United Expo will be held from October 18 to 20, 2023 at the Georgia World Congress Center in Atlanta.
"We are proud to be a strong industry supporter at PRINTING United Expo in Atlanta," says Kilian Renschler, president and CEO of Koenig & Bauer. "It's the perfect show that focuses on our belief that convergence and diversification brings about new opportunities. This is a pivotal opportunity to meet face-to-face with our sales team, product experts, and senior management, who can highlight new solutions and technology to expand a printer's market share. We are excited to showcase our current and future efforts."
This year, as Koenig & Bauer celebrates its 206th year in business, its line of new medium format sheetfed presses is top of mind. The flagship Rapida 106 X has numerous successful installations in the U.S. providing printers with outstanding production, efficiency, sustainability, and solutions. Learn more about this amazing press and the firm's additional line-up of high-quality printing presses for the commercial, packaging, label, envelope, litho laminate, and specialty markets.
Koenig & Bauer continues to strengthen its position in the corrugated board industry with its high board line rotary die cutters. The product line includes ChromaCut X Pro, ChromaCUT High Tech, and ChromaCUT Smart with such unique features such as dual die cutting capabilities and two-sided print capabilities.
Experts will be on hand to go over the latest CI wide web flexo presses that have the abiity to print up to 12 colors with inline finishing capabilities and variable print lengths. The current customer base is printing on substrates such as film to paper to board.
One of the fastest growing markets continues to be digital and Koenig & Bauer will be promoting its RotaJET and VariJET digital presses at PRINTING United. Stephen Sanker, the firm's digital printing manager, will be on hand to discuss the new VariJET 106, a modular single pass sheetfed digital printing press for the folding carton market as well as the firm's expanded role and format capabilities of the RotaJET digital web press across all market segments.
Koenig & Bauer has seen tremendous growth and success for its post-press products, which include folder-gluer products and its flatbed die cutter portfolio. A recent open house in Dallas drew printers who were astonished while watching the Omega Allpro 110 folder gluer display its top speeds of 400m/min and produce a variety of complex carton jobs that demonstrated its flexibility, efficiency, and versatility. The new CutPRO Q, a highly automated die cutter with industry-leading technology, and the rotary die cutter CutPRO X, offer high speed solutions.
To demonstrate its wide range of products, Koenig & Bauer Kammann will be featured at the booth. Well known for its German engineering, manufacturing and quality products, this Business Unit provides innovative, precision-based decorating equipment for direct printing on three-dimensional glass, plastic, or metal containers. With its innovative digital inkjet capabilities complementing its traditional screen-printing, hot-stamping and labeling techniques, Koenig & Bauer Kammann can combine the processes to take advantage of its best features, which offer flexible high-quality unique decorating solutions for its customers and continues to demonstrate Koenig & Bauer's technological leadership.
So, stop by the comfortable Koenig & Bauer booth where you will be warmly welcomed and chat with our team of experts while enjoying a complimentary soft drink, cold beer, and traditional German brats.