Aimed at flexible packaging printers who seek a space-saving solution and considerable energy savings
Outstanding printing quality at reduced investment costs
Printing speeds up to 400m/min, ultra fast job changeovers
Koenig & Bauer Flexotecnica recently launched a brand new high performance compact CI flexo press---the Evo XC---to join its well-established line of Evo models. The eight-color press offers one of the smallest footprints in the industry and is available in two different versions with a maximum repeat length of up to 850 mm and printing speeds up to 400 m/min.
"This press represents state-of-the-art technology for newcomers as well as experienced printers (e.g. from the rotogravure industry) who want to enter the CI flexo market in a budget-friendly way," says Preston Neetzel, sales director-flexo of the Web & Specialty Press Division at Koenig & Bauer Flexotecnica. "We developed the Evo XC to enable efficient printing with environment-friendly water-based inks not only on paper, but also on plastic films. The Evo XC is aimed at flexible packaging printers who are seeking a space-saving solution and considerable energy savings at the same time. This small-sized machine can be an additional press to an existing wide-web machine converter in order to achieve a new level of cost-efficiency."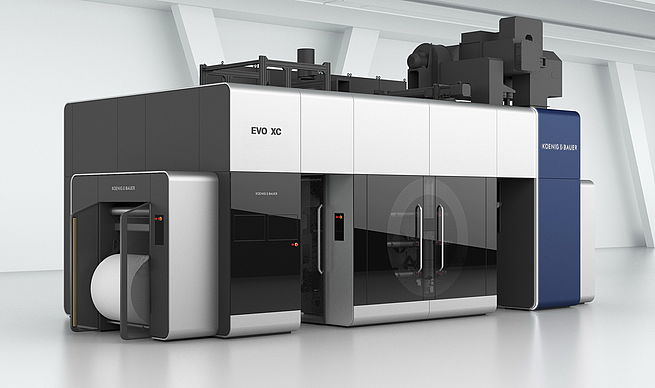 Wrapped in the iconic Koenig & Bauer design, the Evo XC features traditionally solid machine engineering in combination with the intuitive HMI, a completely new dryer concept as well as the latest digital Industry 4.0 features, which herald a new era in terms of output efficiency, production uptime and operator-friendliness.
Its key features include:
· Iconic machine design: the clear and minimalist design concept of this printing press increases safety while reducing failures in operator workflow due to a new level of accessibility.
· Human machine interface: a new intelligent HMI with large 24-inch touch screens has been introduced to promote simple and intuitive job data input and control of the press functions.
· PrintTronic automatic impression settings: this proven technology ensures automatic control of print impression positions with minimized material waste and increased production uptime. Integrated in the HMI, PrintTronic delivers practical benefits such as quicker printing impression adjustment on all printing decks at once, no requirement for video cameras or additional external equipment, no need for dedicated marks or RFID imbedded sleeves, no ink consumption during the process and compatibility with any type of material, plates or inks.
· Doctor blade chamber: this system achieves outstanding printing results because adjustments are made automatically for accurate and fast job changeovers. A fast clamping system and extra long-lasting doctor blades provide easy operation and low maintenance. An optimized interior geometry of the chamber with a reduced volume results in additional ink savings and ensures smooth operation with hardly any ink spitting
· DryTronic: In order to meet the demands for efficient drying of solvents and water-based inks for both inter-deck as well as final dryer stages, Koenig & Bauer has introduced an enhanced inter-color drying system for efficient heat transfer to the web while at the same time reducing heat loss. Due to an optimized configuration, the dryers generate effective airflow – even at high printing speeds – to promote homogeneous drying. Accurate temperature control of the system ensures constant drying and low energy consumption without sacrificing print quality or damaging the web. An important benefit of the novel drying system between colors is its compact and ergonomic design that improves operator-friendliness for maintenance and cleaning.
· WashTronic: The WashTronic system optimizes the inking supply and allows the ink to be changed more quickly. Due to less ink in the circuit, a higher productivity level can be achieved, especially with increasingly shorter jobs. The integrated arrangement of the system reduces the total footprint of the press while remaining ergonomic for the operator at the same time.
The new Evo XC from Flexotecnica made its maiden debut at the K2019 fair in Düsseldorf, Germany, where it drew crowds to view its several live demonstrations each day and will next appear at the Koenig & Bauer booth at Drupa 2020 in Düsseldorf.
Koenig & Bauer (US) is located in Dallas, Texas and a member of the Koenig & Bauer Group, which was established over 200 years ago in Würzburg, Germany. Koenig & Bauer's claim, "We're on it." gets to the heart of Koenig & Bauer's values and competencies for all target groups. The group's product range is the broadest in the industry; its portfolio includes sheetfed offset presses in all format classes, post press die cutting, folder gluers, inkjet presses and systems, flexographic presses, commercial and newspaper web presses, corrugated presses, special presses for banknotes, securities, metal-decorating, glass and plastic decorating. For more information visit the company's web site at www.koenig-bauer.com.