The Koenig & Bauer Durst VariJET 106 attracting widespread interest in folding cartons
The RotaJET is making big inroads into packaging, décor, and book printing segments
Strategic partnerships are continually being developed to ensure a strong digital future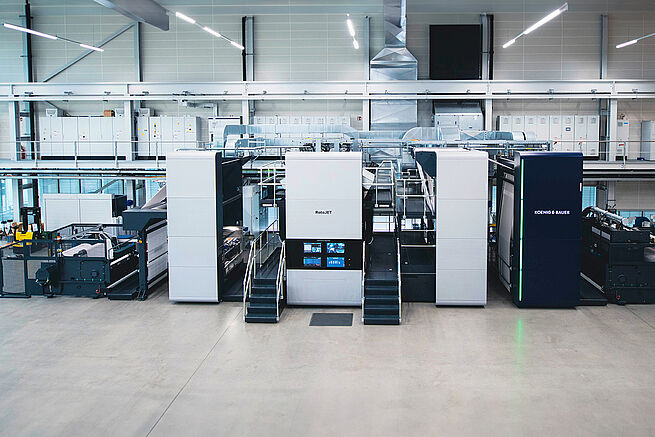 Koenig & Bauer has unveiled more details of its digital printing applications in growth markets such as books, folding and liquid cartons, and décor. Together with software solutions, they are becoming an essential, integrated part of Koenig & Bauer's focus on digitalization, modularity and sustainability.
With digital printing equipment solutions being developed and adopted across various market segments, Koenig & Bauer is responding to market trends demanding greater flexibility and more personalization. It is achieving this by scaling up digital production across all platforms and increasingly connecting directly with brands and end users. As one example, consumer packaging brands are demanding customized campaigns with versioning that requires suppliers such as Koenig & Bauer to respond with complete end-to-end digital solutions.
North America is one of Koenig & Bauer's key growth target regions. "Koenig & Bauer is successfully advancing its exciting digital printing applications across overall markets," said Stephen Sanker, Koenig & Bauer's North America's Digital Printing Manager. "The VariJET and RotaJET presses, along with other new digital technologies, are being developed and deployed across many market segments. We are connecting with customers and end users alike across these new platforms, as we continue to chart our path to growth. Digitalization, modularity, and sustainability are all a major focus."
Key digital production press pillars are the RotaJET press and VariJET 106 press, the latter has been developed in conjunction with the Durst Group, manufacturer of advanced digital production systems and software, which has its headquarters in South Tyrol, Italy. The VariJET 106 build program is being scaled up by Koenig & Bauer and Durst, a joint venture company between Koenig & Bauer and Durst, to address strong demands for digital production in folding carton markets.
Koenig & Bauer has seen growing levels of interest for highly industrial, high speed manufacturing applications for the RotaJET modular digital web printing machine and establishing RotaJET sites in the US, according to Sanker. In digital web applications, Sanker says the RotaJET is being adopted for packaging, décor, and book printing. Koenig & Bauer continues to develop and expand strategic relationships as part of its digital solution offering.
"Koenig & Bauer is a global developer and innovator of hghi-tech press systems and software," said Sanker. "We are successfully integrating heavy-duty machine manufacturing with state-of-the-art digital technologies, paving the way for the company's future as we meet market demands for decades and centuries to come."
Koenig & Bauer's digital printing machines are being installed in a wide variety of segments. These segments include:
Book
Book manufacturers are intrigued with digital printing as this system is very cost effective for high-capacity production and finishing of book blocks by reducing makeready and inventory. Since the beginning of this year, a new RotaJET 130 has been installed at the Lake Book manufacturing facility in Melrose Park, IL. Its configuration allows a book to be printed and bound from the raw paper reel to the pallet ready for shipment in less than one minute. This capability is disruptive in the book printing market and is driving a new business model in this industry.
Liquid cartons
The liquid carton market is expected to increase usage of industrial digital carton printing in the near term. Brands are increasingly attracted to the capabilities associated with increasing the speed to market along with frequent changes, SKU proliferation, customization for seasonality, unique branding initiatives, language and version changes, and a variety of marketing concepts. One of the largest manufacturers is TetraPak in Denton, TX, which is operating a RotaJET VL 168 large format digital inkjet press at its facility.
Folding carton
Packaging and folding carton production hold the biggest potential for Koenig & Bauer, said Sanker. The RotaJET addresses high volume digital packaging markets, with optional flexo sleeves for transformation into a hybrid press, which can be enriched by Rapida sheetfed components to address cost-efficient, high volume packaging applications. Koenig & Bauer Durst's VariJET 106 addresses the lower volume, high quality market and embellishment applications. Both digital press systems offer significant value and can provide end-to-end, lower cost solutions with sustainable production and faster times to market.
Décor
The décor market is another growing market for digital printing. Koenig & Bauer is seeing double digit installations for décor in Europe and that growth is migrating to the US following new consumer trends and dynamics, says Sanker. Projects are beginning to take shape. The flooring and furniture market affords many opportunities for digital printing because it allows them to maintain minimal inventory, reduce costs, and address short run applications, frequent job changes, and customization.
"With RotaJET web widths up to 138cm, 168cm and 225cm, we can offer our customers market- and region-specific solutions for the most varied décor applications," says Sanker.