Since the EVO XD's installation, sales for printed products have risen an astronomical 78%
Customer base has expanded into additional retail and grocery stores putting more product on store shelves
Multiple automated features on the EVO XD provide superior color consistency, friendly touchscreen panels, and easy troubleshooting and support services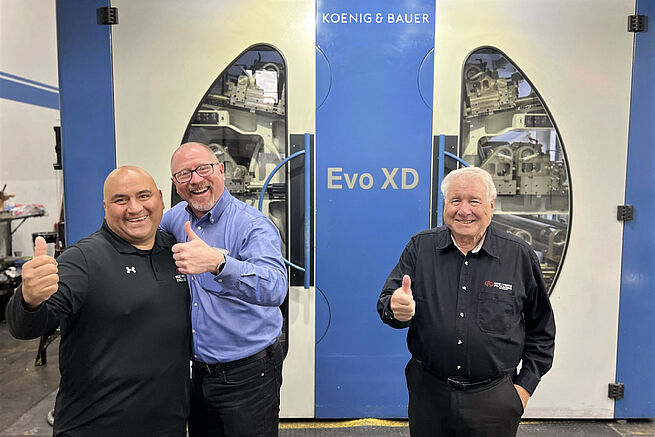 When Great American Packaging extols its "white glove service," this premium differentiator extends to all areas of the company: high quality production, knowledgeable sales force, and sustainability initiatives. As a vertically-integrated manufacturer of custom printed flexible packaging, the Los Angeles-based firm extrudes, prints, and converts top notch branded products for businesses in a wide range of styles and sizes. Since its founding more than 55 years ago, the well-known firm has placed a premium on expanding its deep ties with its existing customers as well as focusing on new customer growth.
"Where we excel is solid customer relationships built on a strong foundation of white glove service," says Beth Smith, GAP's executive vice president. "Our customers praise our personal service consultation, quick delivery times, up-to-date sustainability knowledge, and color consistent branding. All of which sets our client's packaging apart on store shelves and sets us apart from competitors."
Key to being able to offer this service is its Koenig & Bauer EVO XD eight-color flexographic press. In fact, as Smith acknowledges, GAP has increased its printed business by an astronomical 78% since the EVO XD was installed, which prompted the firm to add more shifts, sales support, and additional personnel. The EVO XD, says Smith, unleashed GAP's full potential.
GAP's press operators have taken advantage of the high level of automation on the EVO-XD, which include optical error detection, automated viscosity control, auto washup, auto impression setting, servo control, memory for job settings, automatic splicing, and automatic tension control.
"I've been a press operator for more than 30 years in which I've operated a wide variety of presses and the Koenig & Bauer EVO XD is the best experience I've ever had," says GAP's printing supervisor, Ignacio Solis. "The best attribute for our press is Koenig & Bauer's PrintTronic, which allows us to adjust the impression settings and minimize waste. Our operators enjoy using the friendly touchscreen panels, which automatically control temperature, auto viscosity, and, by far, color consistency, which is awesome."
If the press crew is in need of advice or facing a challenge, they can call upon Koenig & Bauer's 24-hour support services and converse with its expert team in real time using the unique Koenig & Bauer augmented reality AR-DataGlass. GAP's printing supervisor and his team can easily trouble shoot using these unique interactive glasses. A Koenig & Bauer technician can remotely view the challenges or issues on the machine from anywhere in the world and exchange direct communication, technical information or documentation in real time. This valuable audio-visual tool improves machine productivity, quality and performance by avoiding long production interruptions or misunderstandings.
Headquartered in Southern California, GAP is keenly aware of the focus on sustainability and how it affects their business as well as their customers. GAP's management and sales team are always available to provide customers with up-to-date environmental rules and regulations. They discuss options, budget, substrates, growth opportunities, sustainability messages, and branding. Recently, the state passed new legislation, The Plastic Pollution Prevention and Packaging Producer Responsibility Act (SB 54), in an effort to reduce pollution and tackle climate change. It requires all packaging in the state to be recyclable or compostable by 2032. It is legislation like this, says Smith, that impacts flexible packaging now and in the future.
"Our recyclable and compostable products fall within the sustainability requirements of this legislation today," she says, "We continue to educate ourselves on new challenges, regulations, and restrictions to help support our customers. We've even launched a compostable product line, and have partnered with our customers to develop new products designed for sustainability while meeting their manufacturability requirements."
"We remain convinced that we chose the best flexographic press partner in Koenig & Bauer," says Bruce Carter, GAP's president. "After comparing them to other flexographic press manufacturers, Koenig & Bauer has displayed exemplary services as a true partner. They offer the right combination of build quality, technology, commitment to the U.S. market, sales support and value to make it the right choice for our company."
Interesting website: www.greatampack.com