Replacing two older presses for new highly-automated large format press
Will expand into additional board packaging work with new Koenig & Bauer press
California trade and packaging specialist relies on Koenig & Bauer's high level of engineering and craftsmanship
Over the last several months, Foster Printing has witnessed continued high growth especially in its food packaging niche as the current pandemic requires this essential need and is prompting robust demand. A new Rapida 164 six-color 64-inch press has been delivered to Foster's 46,000 sq ft facility where it will replace two older large-format presses and begin production this month.
"Our new Rapida 164 will certainly expand our production capabilities," says Kris Blackburn, vice president of sales for the company. "It will provide 50% more capacity along with new unique technology all at a maximum speed of 15,000 sph. While our business plan hasn't pinpointed exact efficiency and productivity data, we know the press will deliver sizable robust numbers and will reduce our makeready times by 20%. We wouldn't think of moving into a mid-size press range. Our Koenig & Bauer large-format press size has always been perfect for us."
Indeed over the past decade Foster has always placed orders for Koenig & Bauer large format machines including the unique Rapida 205 81-inch press—the largest in the world. Blackburn says that the firm will continue to run the 205 in tandem with the new 164.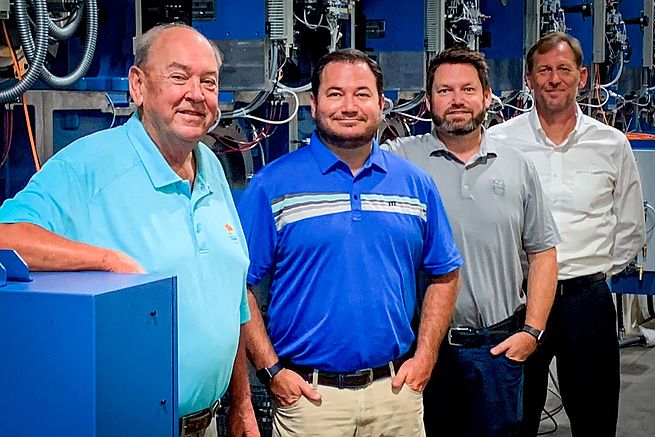 Automated solutions
"The new 164 will allow us to be more efficient and give us fluid shift changes for our press crews," says Blackburn. "We also configured the press for the first time to be raised, allowing us to do more packaging board work, which is our most vigorous growth area."
There were a number of deciding factors, says Blackburn, such as the Rapida's UV printing capabilities, which are a driving force for Foster to provide faster turnaround and quality improvements, as well as the ability to produce unique, value-added work, all of which complies with California's stringent environmental regulations.
Total Quality Control
To maintain its high quality products, Foster has configured the new press with the Koenig & Bauer ErgoTronic ColorControl color measuring system, ErgoTronic LAB, and ErgoTronic Quality Pass software to increase production and provide in depth color reports.
"We've differentiated ourselves from other southern California printers due to our ability to produce top-of-the-line work with one- to two-day turnaround and exceptional service along the way," says Blackburn. "We can count on the quality of a Koenig & Bauer machine and the timely support that we receive. It is a seamless partnership that helps us deliver the highest quality products for our demanding customers.