New Koenig & Bauer Rapida 105 LED UV press put in service in January, 2023
Strong growth precipitated additional print capacity especially for LED UV coating work
Three shifts on new Rapida 105 outputting commercial work for Fortune 500 companies as well as expanding its packaging niche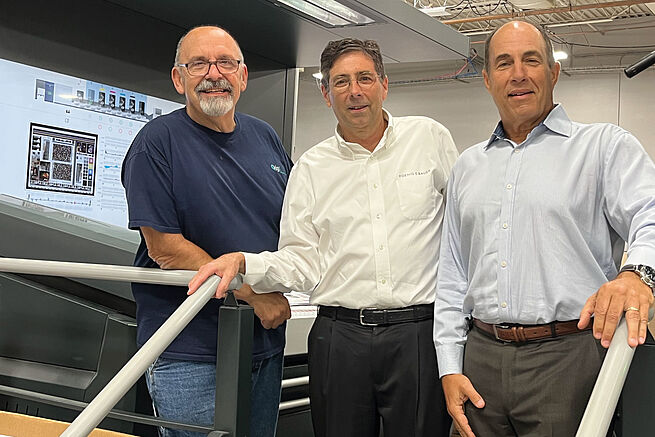 In its gleaming white 200,000 sq ft facility, Diversified Global Graphics Group (DG3), a global business communications and marketing services provider headquartered in Jersey City, NJ, has a terrific perch along Liberty State Park and the Statue of Liberty, overlooking lower Manhattan and the many Fortune 500 companies that it serves in the financial and commercial printing markets. With its distinguished reputation for providing on demand jobs along with sophisticated data security and technology offerings, DG3 continues to grow and expand its print operations. Most recently its management team decided to invest in a new high speed ultra-modern Koenig & Bauer Rapida 105 41-inch LED UV press—its first from the German manufacturer.
"When we looked at our customer requirements, it showed that we needed to replace and upgrade an older eight-color press with a new 41-inch model giving us higher speeds, more efficiency, and productivity," says Steven Babat, DG3's worldwide president and chief executive officer. "We've had Koenig & Bauer on our radar for a long while because it differentiated itself from other manufacturers due to its high quality, strong build, automation, and excellent features. We know that the Rapida 105 would allow us to answer our customer's demands and keep our quality and productivity at the highest levels."
DG3's pressroom, which is dominated by the new Rapida 105 and a perfector press from a different manufacturer, has been inundated with LED UV coating jobs, which further drove the decision for additional press capacity. As the firm added more short run coating jobs, its need for efficiency and productivity became ever more apparent. With their customer's need for quality analytics, the press is equipped with a quality management reporting system.
Flexibility was another key differentiator in DG3's decision. While DG3 plans to use the press primarily for commercial work, the new Rapida 105 is equipped with a raised lift kit to accommodate thicker board for packaging. This space, says Babat, has been growing so that currently commercial work versus packaging is made up of an 80/20 split. While most of DG3's work for packaging is produced on light substrate, the Rapida is capable of running thicker substrates that DG3 will be able to produce in-house with its reputation for superior quality.
Working with Koenig & Bauer on the press delivery and execution has been easy. To provide the utmost color control for its demanding customers, the press operates with Koenig & Bauer's popular QualiTronic ColorControl system. Cost savings were derived from matching the plate sizes from the previous press, which allows DG3 to reduce plate inventory allowing one plate for multiple press manufacturers. Additionally, the press was raised 555 mm (21.85") on stilts and placed on a ground level foundation rather than using a cement platform to raise the press thus reducing material cost.
"This year is an exciting one for DG3," says Babat. "The service components of our business continue to grow, but print remains the core. We are always seeking out new lines of business and growth opportunities as we have done in recent years with our cruise and promotional products businesses. It's very fulfilling to see the fruits of our investments throughout our operation. Plus, we've got our new Koenig & Bauer Rapida 105 up and running, delivering the finest quality under our own roof."