Leading litho-laminated corrugated packaging firm in Paterson, NJ are experts in creating high-quality packaging for the club store, e-commerce, and quick service food industries
Koenig & Bauer Rapida 164 features a unique camera system that measures each sheet during print runs allowing shorter makeready times, minimized paper waste, and guaranteed consistently high-quality printing
Accurate praises Koenig & Bauer's holistic training regime that is providing Accurate's press operators with in-depth on-site and factory training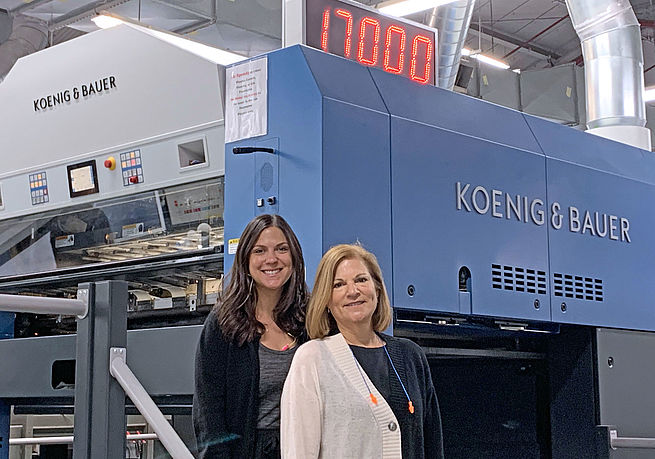 To maintain its high level of expertise in creating high-quality packaging for the club store, e-commerce, and quick service food industries, Accurate Box Company, a leading manufacturer of litho-laminated corrugated packaging, installed a new Koenig & Bauer Rapida 164 seven-color printing press to increase its production and throughput. This new investment adds the most advanced printing technology in the industry to Accurate Box's 400,000 square foot facility in Paterson, NJ, that now houses three Koenig & Bauer presses.
"Our reputation has always been as a world class manufacturer that produces high graphic corrugated boxes," says Lisa Hirsh, president and CEO of Accurate Box. "As the marketplace continues to rapidly transform, our strategy is to leverage the innovations and advanced technologies available to our market."
The new Rapida 164 large-format press runs an impressive 17,000 sheets an hour which is 13% faster than Accurate Box's previous new press that was installed in 2018. Matching the capability of the previously installed press, cameras measure each sheet while printing and automatically adjust the ink for perfect print consistency throughout the run. This is a significant feature that shortens makeready times, minimizes paper waste and guarantees consistent high-quality printing. It reinforces Accurate Box's facility as a model for quality output and productivity and continues its path as a one-of-a-kind state-of-the-art manufacturer.
Installation of the new press started in July and was in production by August. Accurate Box was well prepared for the installation since one of Accurate Box's printing team members flew to the Koenig & Bauer facility in Germany for two weeks to receive training on its new press. When the press arrived at Accurate Box's facility, a Koenig & Bauer team was there for five weeks to train Accurate Box's entire printing crew. This was critical for Accurate Box in order to have the press up and running quickly and to minimize downtime once it was installed. Training will continue into next year with two Accurate Box employees flying to Germany to get more in-depth training and knowledge on the press.
"One of the key reasons that we have remained extremely successful over nearly 80 years is our investment in our employee base, our equipment, and our customer's ongoing needs," says Hirsh. "With a stellar reputation for providing exceptional high quality graphics for corrugated packaging for nationally-recognized brands such as Kellogg's and Pepsico that line the aisles of big box retailers like Costco and Sam's Club, we are pleased to continue our strong partnership with Koenig & Bauer and the finest presses on the market."
Interesting website: www.accuratebox.com