Ultimate Paper Box (UPBX), a fast-growing custom packaging manufacturer located in City of Industry, CA, is expanding its pressroom capabilities with the installation of a new seven-color, 57″ KBA Rapida 145 with a host of unique automated KBA technology including full UV. This delivery marks the third large-format press from KBA to Ultimate Paper Box.
Currently, the firm is operating a KBA Rapida 162a 64-inch six-color press with coater and double extended delivery providing the firm with double-digit growth in new business and increasing its production capability by 40%. A KBA Rapida 142 56-inch press with UV has been removed to make way for the new Rapida 145 57-inch press.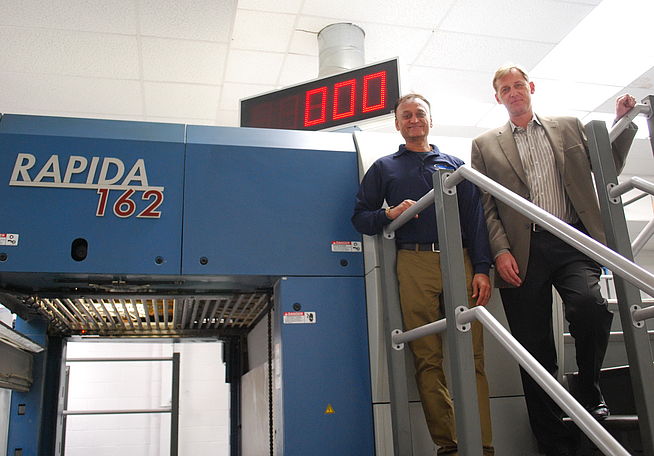 "Our decision to add another large-format KBA press—a 57˝ Rapida 145 press---helps us to deliver sophisticated packaging jobs for the high-end packaging market and to separate us from our competitors while bringing additional value-added services to our existing customer base," says owner Janak Patel." A noteworthy improvement on our new KBA press is the added feature of UV ink and coating technology that will allow us to run a job through the press in only one pass, resulting in improved quality and lead times."
The new Rapida 145 seven-color press with coater and full UV will be equipped with KBA's award-winning ground-breaking technology. These features will provide the firm with increased throughput, allowing the firm to put a job through the press in one pass. The automation and operating technology on the Rapida 145 is geared to eliminating unnecessarily time-consuming factors. Wherever possible, otherwise sequential makeready steps have been integrated into a simultaneous and essentially automated job changeover process. The increased maximum production speed on the Rapida 145 is an additional gift to users like Ultimate Paper Box focused on high volumes.
Patel had been eyeing the new Rapida 145 ever since its debut at Drupa 2012. He was impressed with the Rapida 145's amazing technological ingenuities, the high run speeds, redesign of the feeder, new delivery extension and delivery, user-friendliness, ability to pre-set different options, and being environmentally-friendly, which helps the company to save on power and decrease its power consumption.
"With the addition of this new seven color large-format KBA, we will be able to continue to grow at a rapid pace and offer our customers the highest level of productivity and quality that they expect," says Patel. "The new KBA is a much needed addition because we have been experiencing record breaking growth year-over-year for the past several years. Most importantly, there is an added value for our existing customers because it also promotes long term growth opportunities for their businesses as well."
Patel adds, "Our solid, long-standing partnership with KBA has provided us with the most amazing technology and highest productivity. We can pinpoint our growth to these incredible presses that provide the highest quality and fastest makeready for our record-setting growth."
Ultimate Paper Box Company was established in 1995 with four people working in a 2,000-square-foot warehouse. Today, the firm caters to the electronic, retail, food, cosmetic, and pharmaceutical packaging markets and is headquartered in a modern 40,000 sq ft production facility near a separate AIB Certified flexible packaging division established three years ago. Ultimate Paper Box has achieved G7 Master Qualification and is FSC/SFI certified. Collectively, the two firms employ 120 and post more than $32 million in sales.
Caption:
Photo 1 : Left to right : Janak Patel, owner of Ultimate Paper Box, and Marcus Schoen, KBA sales manager, stand atop the firm's current KBA Rapida 162a 64-inch six-color press with coater and double extended delivery.