Popular "Makeready Champion" Rapida 106 posts amazing 20,000 sph
Koenig & Bauer equips new press with important LED-UV technology, reel sheeter, and lightweight package for value-added optimization
Knowledgeable Koenig & Bauer sales and technical team brought energy and value
What's the most effective method to ensure that a prospective customer opens your direct mail solicitation? For leading nationwide brands, the answer to that question comes from consulting with Kenmore Envelope, a privately-owned, third generation envelope printer based in Richmond, VA that caters to premium high end corporations that require flat-sheet litho direct mail pieces.
"Direct mail is very much alive in the marketing world and our company is leading the way in creative high-end direct mail pieces," says Scott Evans, Kenmore's president / CEO. "Our goal is to consistently deliver open rates for our customers and strive to meet their unique envelope manufacturing needs. We always want to provide our customers with the highest level of quality and consistency throughout the entire process as well as meeting their mailing deadlines. Customer expectations are changing. The trend is clearly towards more personalized, smaller and mid-sized order volumes. Our sales team presents a wide variety of versatile new possibilities for envelopes such as special formats, UV, varnishes, embossing and other types of finishing that attract the end customer's attention."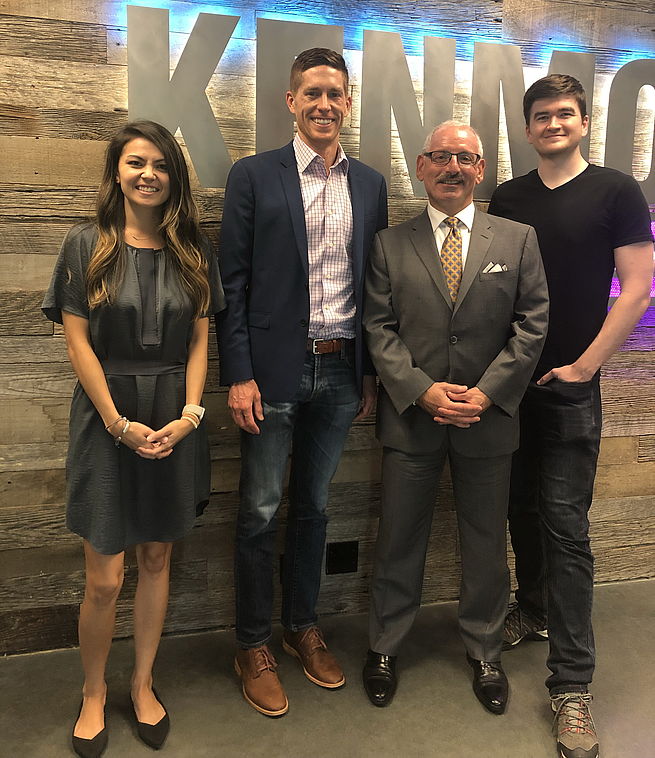 Left to right: Kristin Ogo, COO of Kenmore; Scott Evans, Kenmore's president / CEO; Alex Stepanian, Koenig & Bauer regional sales director; and Zachary Burrows, Kenmore's CFO; eagerly await the new Koenig & Bauer Rapida 106 press at their facility in Richmond, VA.
With that mission in mind, Kenmore chose to add new firepower to its pressroom with the installation of a sleek new Koenig & Bauer Rapida 106---its first from the premier German manufacturer---as an additional impressive asset. Known as the "makeready champion" due to its amazing automated capabilities and lightning fast 20,000 sph, Kenmore's Rapida 106 press positions the firm with additional capacity and modernization of its sheetfed platform. It is due to arrive later this year.
"After doing our due diligence among the three major sheetfed press manufacturers, we believe that Koenig & Bauer is the best fit for Kenmore's future needs," says Evans. "We found that this press manufacturer had the most well-equipped presses for our growth strategy, its sales and technical teams brought so much value and energy, and they totally understood our needs."
What Kenmore soon learned was how its image and management team mirrored that of Koenig & Bauer, with both sides taking thoughtful approaches and solidifying an important partnership. The envelope manufacturer is on a major growth curve with its production output being strained to capacity and the need to bring work back under its own roof from outsourcing. What's most impressive is that over the past 15 years, Kenmore has grown from $6 million in revenue to a whopping $29 million.
Kenmore prides itself on offering its strong, diverse clientele the competitive edge of run length and substrate flexibility. Kenmore sees an average run of 35,000 sheets but the firm can produce as much as 500,000+ sheets for a customer's job or as short a run length of a few thousand sheets. To gain a high open rate for a customer's direct mail piece, Kenmore offers a variety of specialty substrates, from 24 lb. uncoated to 9.3 pt coated as well as such sizzling substrates as metalized stock. To make its envelopes pop even further, Kenmore adds spot UV, embossing, soft touch, and glitter for special touch and texture.
"We're so excited to see the production on this press," says Evans. "Our clientele are promoting their important brands by using rich, heavy stock for their direct mail envelopes. Previously, they would ask us to print longer runs but today the trend is toward shorter run lengths and more of their budget money is spent to make the image and brand jump off of the envelope. Our new Rapida 106 will do it all. We plan on operating it 24/7. With its speed and automation, it will double the output of our current non-Koenig & Bauer presses and set us apart from our competition. It will solidify our mission and niche as the premiere leader in litho convert envelopes for direct mail."
Part of the press package is a Mabeg reel sheeter---new to Kenmore---that will eliminate the process of cutting sheets offline. Kenmore's customer will benefit with the speed of getting their products to market along with competitive pricing using economical paper rolls and cutting-edge equipment.
An important advantage of the new Rapida is its LED UV capability for high-speed, high-quality envelope printing. Kenmore sees strength in this feature, especially for its for-profit customers that require impressive envelope production. With a strong pro-environmental position, LED UV allows Kenmore to print and immediately cut and fold projects reducing time to market. Kenmore can also switch back and forth between conventional ink and LED UV, helping customers save money, and giving Kenmore a more nimble and flexible agility to its variety of work.
Located at the end of a cul-de-sac in an industrial park near the Richmond International Airport, Kenmore's dedicated team of 136 employees arrives at its 120,000 sq ft two-story off-white building surrounded by trees and parkland. As Evans leads his team into the future, he is driven to be the first with new cutting-edge approaches to envelope printing. His philosophy is to continue to invest in new technology, which enables Kenmore to adapt to its customers' diverse requirements and provide individual, made-to-order products. In addition, new machines allow the firm to entice the next generation of employees. That next generation, says Evans, are attracted to new high-quality automated technology; it empowers them to pursue careers in the trades and to work hard to acquire the skills to run the presses and other machinery.
Founded in 1975, Kenmore Envelope Company is the premier choice for all envelope printing and manufacturing needs. Its goal is to provide its customers with the highest level of quality and consistency throughout the entire process.