Nationally top-ranked printer offers new box styles to its varied packaging segments
Gained a new high-value customer due to the strength of the Allpro folder gluer's capabilities
Koenig & Bauer exceeded the firm's goal of delivering, installing, and operating its newest bindery machinery
As The John Roberts Company celebrates its seventh decade in business, its business model is shifting toward additional packaging work to complement its sheetfed, digital, and web production. The Minneapolis/St. Paul firm, which is ranked as one of the top 100 printers nationally, needed to relieve a bottleneck in its bindery and turned to a new partner, Koenig & Bauer, to meet their increased demands.
"As our focus turns more into high quality packaging production, we needed a new folder gluer immediately to handle our growing volume," says Scott Zorn, director of operations at The John Roberts Company. "This is a growth area for us. While we've produced packaging in the past, this additional effort is contributing to our overall presence in the market and our bottom line. Not only did Koenig & Bauer fulfil our need, but they also exceeded our expectations by delivering the Allpro 110 folder gluer a week early."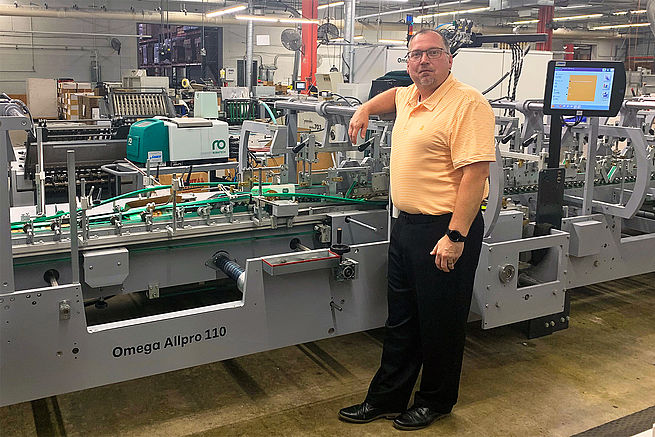 Since the Koenig & Bauer Allpro 110 folder gluer's installation last October, the firm has never had to use its older folder gluer from a different manufacturer again. The Allpro, with a maximum belt speed of 400m/min, is providing faster running speeds, more capabilities, and quicker makereadies due to its job memory. Its four and six corner attachments allow John Roberts to offer packaging capabilities that it hasn't had in the past. The firm's folder gluer operators love the ease of its touch screen control panels. Quality control is performed automatically with the machine's barcode reader and glue detection features.
"Immediately, the Allpro folder gluer has given us new capabilities and our sales force has been able to sell new packaging work to gain additional business," says Zorn. "We're seeing a wide range of customer jobs going through the Allpro folder gluer using everything from carton board to corrugated stock."
"From my position as director of operations, purchasing the Koenig & Bauer Allpro 110 folder gluer was a well-planned decision and a very good experience," says Zorn. "It was absolutely necessary to invest in our bindery to remain a leader in our field. In my 35 years of experience, I have never had such a smooth and easy installation. This is the first time that we've worked with Koenig & Bauer, and I look forward to doing it again. When we asked for extra training time, they arranged an extra week for our operators. This purchase and installation are a big win for The John Roberts Company as far as superior service and additional capabilities. It demonstrates our strong commitment to providing our customers with the highest satisfaction. We are constantly learning, exploring, and conquering new technology and skills to grow our expertise."