New 41-inch press was delivered in spring 2021 to Wichita, Kansas print specialist for point-of-purchase applications
Non-traditional substrates such as plastics, vinyls, rigid vinyls, PRV, and PETG make up 65% of its output
LED-UV curing technology provides a significant advantage in running Rand's challenging substrates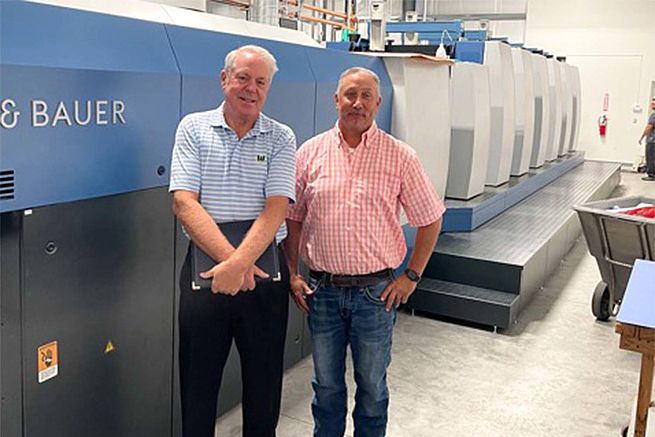 Known for leveraging new technology to drive efficiency and faster throughput for its customers, Rand Graphics, a large format POP/POS printer for some of the best known and largest food, beverage, and retail industries in the world, has supercharged its pressroom with a new Koenig & Bauer Rapida 105 in late June 2021. Since then, the highly-automated press has exceeded its goals by raising its efficiency levels, streamlining production, and providing its large format POP clients with even higher quality.
"Having our newest Rapida equipped with LED-UV is an extremely positive asset for us," says Randy Vautravers, president of Rand Graphics. "It separates us from our competition and gives us the ability to offer the largest UV capability in the country alongside our existing Koenig & Bauer Rapida 205 81-inch press. Since we print so many challenging substrates, this new Rapida provides us with a low-temperature exposure on our heat-sensitive substrates. Having the LED-UV feature ensures that the plastic substrates do not expand due to heat and we can quickly move on to the next operation without any post-curing, which helps to speed up the time lines. We're unique because that type of work makes up more than 65% of our output with the rest coming from conventional papers. These specialty substrates are expensive and we're always cognizant of keeping waste to a minimum."
Working in tandem with the LED-UV feature is the new Rapida's inline closed-loop QualiTronic Color Control system, which ensures that every sheet is measured to ensure consistent and outstanding quality throughout the run. The system allows management to have a 360° overview of all company activities. The team is able to gain even more efficiency from the closed loop system, says Vautravers, and move along immediately to the next process because the sheets are dry to the touch.
The installation of the new Rapida 105 is a capstone to an exciting year at Rand Graphics. The firm expanded its print production under one 200,000 sq ft facility for its 210 employees completing the goal of having its prepress, press, bindery, finishing, fulfilment, and e-commerce solutions all under one roof. This consolidation is providing it with nearly 25% more efficiency and capacity and it replaced two older 41-inch presses, one of which was a Koenig & Bauer, with its third Koenig & Bauer press.
"We've developed a very strong relationship with Koenig & Bauer," says Vautravers. "Our press operators are thrilled with the new Rapida press and its features that have made their job much easier. As we continue to develop new customers and maintain our solid commitment with our existing customers, this year is definitely turning out to be an exciting one for our company."

Interesting website: www.randgraphics.com