New 41-inch Rapida press, its second from Koenig & Bauer, became operational in January 2022 at its Beford, VA facility and is performing at high optimum levels
Down-gauged substrates are a fast-growing segment of Smyth Companies' production especially due to their environmentally friendly component
Availability of enhanced print systems helps to differentiate Smyth's business in the market
Over a 50% gain in capacity with two Rapida press platforms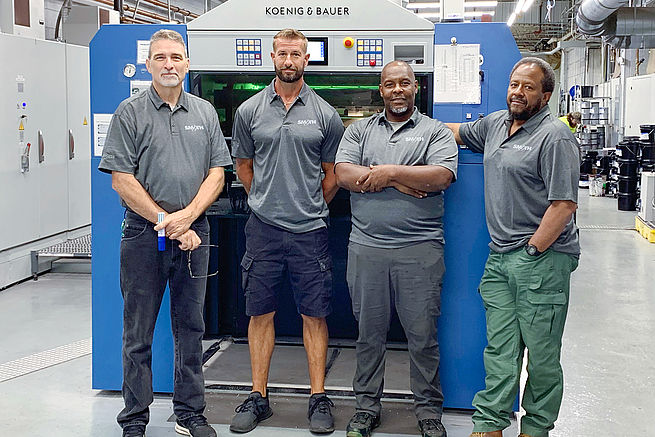 "Innovation has always been one of the strengths of our business," says Scott Fisher, president of Smyth, one of America's largest printing and packaging providers. "We've always had the reputation of taking on projects that no one else would ever touch or even dream of." Innovation, however, is more easily achieved by operating the latest technology to further those goals. Earlier this year, Smyth elevated its production level with a second Rapida press from Koenig & Bauer.
"Koenig & Bauer has always been a great partner with our company," says Fisher. "As we've expanded our substrate offering, the technology developed by Koenig & Bauer was a natural fit and it's been the main driver for us. We already have 200 million impressions on our first Rapida press, and it is operating at peak performance. Our second Rapida press is now equipped with all of the latest state-of-the-art Koenig & Bauer systems for color management, quality control, registration, and additional embellishment options."
When Smyth installed its first Rapida press, management held the firm belief that it could print a variety of substrates. As its customers requested more color capabilities and embellishments, seeking a more tactile feel and brilliance to entice shoppers at the shelf level, Fisher and his team trusted that Koenig & Bauer's press was the right technology for the market and for the company. After its knowledgeable press operators put the first press through its paces and began to utilize the second Rapida press, the plan came to fruition and Smyth is now realizing constant run speeds of various substrates never before seen globally.
"The new Koenig & Bauer Rapida press provides Smyth a real edge over our competitors and helps us differentiate our business," says Fisher. "Both presses are performing at optimum levels with additional embellishment capabilities. It pushes us to another level giving our customers a wide range of decoration options."
Since the installation of the second Rapida press, Smyth has been impressed with the continuity between the two machines and the shared knowledge between the two platforms. Having identical platforms helps to support Smyth's initiatives and service levels as well as streamline productivity to enhance compressed turnarounds especially for customers who utilize all ink stations including specialty colors. The company has also gained over 50% more capacity and feels that number will grow as it completes additional trials and testing.
"We believe printing on down-gauged materials will continue to flourish due to their environmental advantages," says Fisher. "Our customers have had it on their radar screen due to these sustainable advantages. As we move forward as leaders in our industry and promoting innovation, we will continue to support that space with the help of our two Koenig & Bauer Rapida presses."
The relationship between the two organizations remains strong. "We were not looking to just purchase a well-built press with solid mechanical parts, but we also sought out the team behind it," says Fisher. "The partnership was equally important. Koenig & Bauer has stepped up to the plate. We've developed a strong solid relationship with Steve Korn, their Director of National & Key Accounts, plus they are always there for training, education, maintenance, or something just as simple as a regular courtesy call to check in on us."
Steve Korn, Koenig & Bauer's Director of National and Key Accounts, adds, "This new Rapida 106 press investment made by Smyth signals that America's premier label printer and single largest independent United States printer of various label materials for packaging applications has chosen to once again invest with Koenig & Bauer to provide access to higher technology for its existing and growing roster of clients. We at Koenig & Bauer are most appreciative of the strong partnership that we have forged together with Smyth as we worked together on this important project. This investment will realize greater manufacturing efficiencies and provide increased capacity because of Koenig & Bauer's industry leading sheetfed press technology tailor-made for optimizing label productivity. We congratulate Scott Fisher and his entire team on what they have accomplished, their remarkable growth in both sales and physical facilities, and even more important, on their extremely talented team who focus on customer satisfaction each and every day. We are certain that this new Rapida 106 press will efficiently drive more jobs and volume through Smyth production facilities, provide Smyth's customers with amazing decoration capabilities, fuel Smyth's ongoing growth, and most importantly continue Smyth's high quality and on-time service to their clients for many years to come."
Interesting website: www.smythco.com