First new high-speed automated Koenig & Bauer-Iberica die cutter at its Ontario facility becomes key post-press machine
Ingersoll operators love its ease-of-use and service support
Capital investment improves speed, throughput, and turnaround for its pharmaceutical, consumer goods and food packaging customers
As Ingersoll Paper Box Co Limited nears its century mark of proudly being in the folding carton business, this 97-year-old Canadian firm continues to invest in the latest technology to maintain its strong growth. A few years ago the firm increased its print output with the addition of a Koenig & Bauer Rapida 106 seven-color 41-inch fully-automated printing press—the first of its kind in North America. Fast-forward to today and Ingersoll has opted for another Koenig & Bauer model for its post-press department---a new high-speed Koenig & Bauer-Iberica Optima 106K die cutter, which was operational in January.
"When we installed the Koenig & Bauer Rapida 106 41-inch seven color press, it gave us added capabilities, faster production speeds, and broadened our customer base," says IPB president Sarah Skinner. "We produce billions of custom boxes of packaging for customers in such industries as pharmaceutical, consumer goods and food packaging—all with a commitment to quality control and continuous improvement. We are always seeking to expand our capital investments in newer and better equipment to ensure that we maintain our reputation as a trusted supplier of paperboard packaging. Our newest addition---the Optima 106K flatbed die cutter---continues to support that mandate."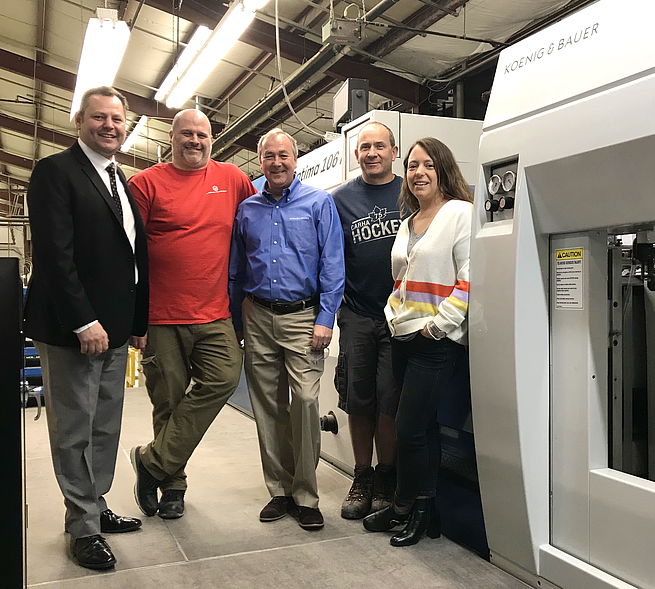 Left to right: Aleks Lajtman, Koenig & Bauer Regional Sales Manager, Canada; Cory Sheritt, Post Press Supervisor of Ingersoll Paper Box; Tom Fitzgerald, Koenig & Bauer product manager; Murray Weir, Die Cutter Operator of Ingersoll Paper Box; and IPB president Sarah Skinner gather around the new Koenig & Bauer Optima 106K flatbed die cutter, which is improving speed, throughput, and turnaround for its packaging customers.
The firm's stellar reputation has been built by saying 'yes' to its customers, providing them with customized solutions for their packaging needs, and realizing the importance of being first-to-market with new products. As its sales and productivity continued to gain and broaden especially with the fire-power of the Rapida 106 press, inevitably there would be a bottleneck in the post-press department. By adding the Optima 106K Ingersoll can continue to ensure customer satisfaction for faster productivity and efficiency.
In addition to its lightning-fast speed, Skinner detailed the many other important reasons that she chose the Optima 106K flatbed die cutter: its quick turnaround, high productivity, user friendliness, and blanking capability. Although the firm has only had the Optima 106K in operation for a few months at its 85,000 sq ft facility, she has found that production in that department has increased exponentially and feels that it will continue to be boosted even further. Due to Ingersoll's wide mix of packaging products, the KBA-Iberica Optima 106 K die cutter is an effective piece of equipment that helps to easily plan job production and is capable of handling paper, cardboard, plastic and corrugated boards up to 1.5mm.
"The new Optima 106K is the perfect model for us due to its blanking capability," says Skinner. "It provides high quality, high productivity, easy handling, and fast preparation. This newest generation of Koenig & Bauer-Iberica blankers is equipped with new tooling technology to do sheeting in a fast and easy method."
Ever since its installation of its Koenig & Bauer Rapida press, the two firms have formed a strong, steady relationship. "Support from both Toronto and Dallas has been excellent. The sales and service team are knowledgeable and responsive. It has truly helped to support our continuing growth," says Skinner.
Ingersoll has one of the most unique and interesting back-stories of its nine decades in business. When it was founded in 1922 it was initially known as Ingersoll Cone and Paper Box, a manufacturer of ice cream cones and the paper boxes that contained them. During the Great Depression, its employees would hand out broken cones to needy members of the local community. The Skinner family and business continue that philanthropic legacy today with its internal charity, Box of Kindness, which supports charitable organizations. They have a small internal area dedicated to the rich history of the company. This area is like a museum highlighting pieces such as letterpress and typesetting equipment, company and customer orders and documentation as well as old ice cream cone molds.
Sarah Skinner, a fourth-generation leader of the firm, looks forward to celebrating this important upcoming 100th year mark. "Our 75 employees embrace our customer-centric focus," she says. "They are proud to walk down a store aisle and see the many packages that they've produced. Our quality products can be found in the pharmaceutical, healthcare, nutraceutical, consumer, food, bakery and technology markets, shipping nationally and internationally. We pride ourselves in providing packaging solutions based on innovation and excellence for startups to established brands. Our latest investment, the Optima 106K, continues that mission. With business booming, we plan to add more employees."
Ingersoll Paper Box, a fourth-generation family-owned business, was established in 1922 by Robert Skinner. Today, the firm is headquartered in a modern facility in Ingersoll, Ontario, Canada with 85,000 square feet of manufacturing space including a 38,000 square feet of warehousing space. The firm produces quality folding cartons from standard designs to custom design solutions, from computer-aided design (CAD) to printing, die cutting, embossing, and folding/gluing. Its diverse customer base includes the consumer, food, healthcare and pharmaceutical industries. Over the years, Ingersoll Paper Box has earned an enviable reputation for its ability to meet its customers' needs for highly flexible production from anywhere from a thousand up to a million folding cartons. The firm's dedication to continuous improvement allows it to provide its customers with the highest quality folding cartons backed up by exceptional personalized service. This combination of quality and service has helped Ingersoll Paper Box to build long term partnerships with many of its customers.