Pro-active response to folding carton production in fast-paced consumer-driven sales
Third Koenig & Bauer Rapida 106 41-inch press on site is hailed as the makeready champion and fastest press on the market
Increase in value-added specialty foiling enhancement orders for its high-end clientele
Consumer brand packaging providers are being challenged as they've never been before. Brands are asking package printers to develop vibrant, high-quality packaging that fit its specific need, brand personality, and market niche. Not only does the packaging have to reflect the brand's logo and colors but also match each package on a store shelf with no color variation. In a word, these packaging suppliers need to keep their clients satisfied.
One of the leaders in this field is Marrs Printing & Packaging, a full-service digital and offset print provider located in a 45,000 sq ft facility in City of Industry. This Southern California converter has adapted its entire packaging production environment to solving the challenges of short-run, color consistent, rapid speed-to-market for today's well-known consumer products. This includes the latest technology in digital presses and finishing equipment as well as the fastest offset press in the market—two recent installations of a Koenig & Bauer Rapida 106 41-inch press.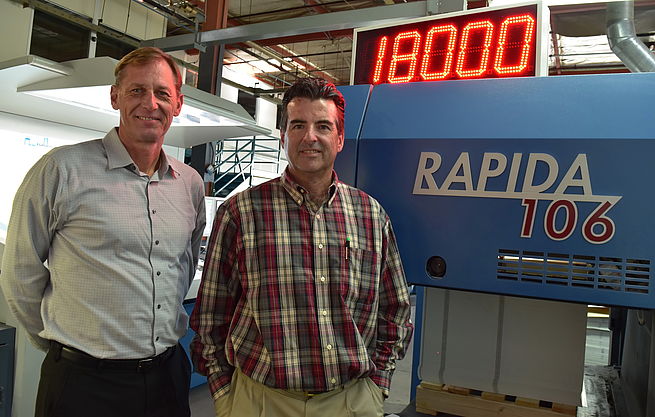 Marcus Schoen, Koenig & Bauer sales manager; and Scott Marrs, vice president at Marrs Printing & Packaging;
Soon, this family owned and operated firm dedicated to its high-end packaging customers will add another level of pressroom power to its arsenal in the firm's equipment base: a third new Koenig & Bauer Rapida 106 seven-color full LED-UV offset press with board and plastic packages, which is also having an Eagle Systems for cold foil applications being installed simultaneously.
"Consumers have a lot of choices on the store shelves today and they make split second decisions to buy products," says Scott Marrs, vice president at Marrs Printing & Packaging. "Brands demand that each package has to stand out and match the one next to it; there can be no color variation. Our job is to protect brand integrity and ensure that color stays consistent on the packaging. We've chosen a third Rapida 106 because we're at full capacity and need to remain flexible and fluid providing top job quality. Our two current Koenig & Bauer Rapida presses quickly and consistently deliver high-end packaging products to our West Coast retail customers mainly in the cosmetic and healthcare industries and we're sure our third Rapida press will provide the same results."
Having three Koenig & Bauer Rapida presses side-by-side will allow Marrs to drive maximum performance and yield significant results especially for short-run fast turnaround jobs. The Rapida's significant speed of 18,000 sph along with its fully automatic plate changing system helps to reduce manual intervention during production and retain those higher press speeds.
Maintaining consistent and vibrant brand colors is one of the most important demands that Marrs answers. To provide its customers with the highest levels of color consistency and control throughout the job run, Marrs has equipped its new Rapida 106 with advanced inline and online systems, such as the Koenig & Bauer QualiTronic ColorControl and ErgoTronic Color Control. These systems automatically run color control and quality checks based on each individual brand's logo and signature color recognition to provide assurance to Marrs' customers. The newest member of the Marrs pressroom can print with both conventional and UV inks and coatings and handle a broad range of substrates, including plastics, up to 1.2mm thick due to the board and plastic packages. Eagle Systems, a premier cold foiling manufacturer, has been added to the Rapida 106 for producing folding cartons that will stand out even further in the market.
Its locale in southern California, the pioneering region for environmental and sustainable methods, has impacted Marrs to accentuate its green platform. Marrs specified its latest Rapida press with LED-UV technology. Not only was Marrs attracted to its environmentally friendly process but also its particularly high print quality, ability to stand out on critical uncoated and offset stock with sharp dots and high color brilliance, and the elimination of printing powder. For those like Marrs that want to embrace environmental stances even further, LED-UV consumes little energy, its ink systems are free from mineral oils, and it consumes only 20% of the energy needed by conventional UV processes.
"In today's competitive market, packaging printers need to differentiate themselves apart from their competition," says Marrs. "How do you do that? In our case, we have demonstrated to our customers that we are willing to invest millions of dollars to purchase award-winning technology from Koenig & Bauer that will set their package and product apart from the others on a store shelf. They have come to rely on us and we rely on Koenig & Bauer. Simply put, our goal is to always provide the highest quality products and services for our customers. Quality is not negotiable."
Since its founding in 1972, Marrs Printing and Packaging has evolved into one of the most complete printing and packaging providers in Southern California. Marrs provides customers with high-quality printing services and custom packaging solutions. From the foundation of traditional print media, to the latest advanced packaging technologies, Marrs handles it all. And its wide-ranging capabilities enable them to service the needs of its customers in today's rapidly changing marketplace. Incorporating technologically advanced printing capabilities, Marrs is renowned for flexibility and responsiveness, integrity and reliability, and an unwavering commitment to customer satisfaction and to craftsman-like excellence. These are the guidelines that have driven the firm's near half-century of benchmarked success.