Popular nasal and sinus care product packaging delivered on its new Rapida 105 sheetfed press
Investment in inline UV process streamlines one-pass efficiency
Expansion of new products generates millions of more boxes and inserts
When consumers are faced with nasal and sinus illnesses like stuffy nose, allergies, chronic sinus conditions, excessive nasal mucus, common cold and flu related nasal symptoms, most likely they've purchased popular over-the-counter products from NeilMed Pharmaceuticals. Lining shelves in grocery stores, drug stores, mass merchandisers, club stores and sold by druggists and other additional medical distributors, NeilMed's products are expertly printed and packaged under tight regulations at its in-plant facility in Ontario, CA near Los Angeles.
"We've built our business over the past 10 years by producing millions of boxes of our packaging in-house with our workhorse press—a Koenig & Bauer Rapida 104 41-inch non-UV press," says Dr. Ketan C. Mehta, NeilMed's founder. "As our business continues to grow and expand, we faced increasing demands for additional speed, quality, and production. We needed to add more firepower to our pressroom and chose a new modern automated Koenig & Bauer Rapida press to produce our boxes and inserts at our Ontario facility. We've invested millions of dollars in our pressroom as well as our bindery with new die cutters and folders to make our production process as efficient as possible. Our new Koenig & Bauer Rapida 105 press is a key component to our workflow."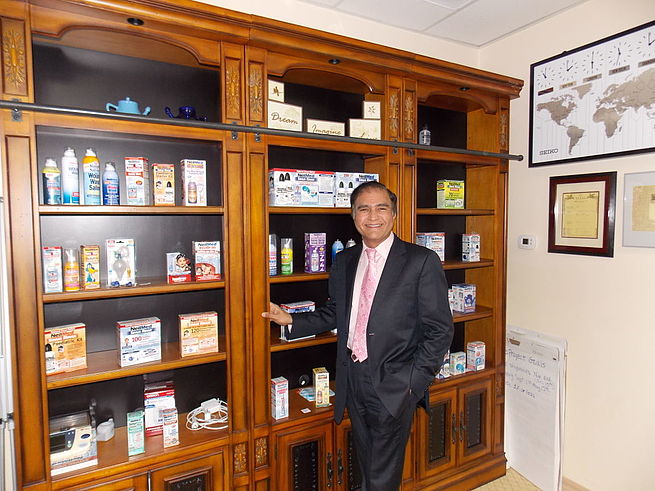 What has the firm gained with its new Koenig & Bauer press?
Al Khan, the manager of the production department, sees a noticeable difference from its existing Koenig & Bauer press to its sleek new sophisticated model. "Since the installation of our new Koenig & Bauer press, we've increased production by a wide margin---25%," says Khan, "and we've experienced a decrease in our makeready time. The press is working very well."
Its double-digit gain in production can be attributed to the completely automated features on the new press. Previously, NeilMed had to run its boxes twice: first through its Rapida 104 and then a second pass through a separate offline UV machine to achieve a high gloss and protective coating, all of which was time consuming.
Another winning feature is the CIPLinkX feature on the new Rapida 105. This capability allows the press to communicate directly with the CIP3 prepress system, via CTPLink, which drastically reduces the plant's makeready time.
Quality is the biggest impact
But the biggest impact of operating the new Rapida press, says Khan, is in the increased quality of the firm's elaborate packaging. Each box is embellished with a bright blue kettle that is UV coated along with other important messaging on the box along with a photo of Nina Mehta, who co-founded the company. It's imperative that each box, sitting side-by-side on store shelves, maintains color consistency and reflects the quality of the product inside. Having the Koenig & Bauer ErgoTronic Color Control automatic color measuring system on its press, says Khan, provides the operator with the measurement, control, and monitoring of ink densities and L*a*b* values through its ErgoTronic camera that is constantly measuring registration.
Khan speaks highly of the service and support offered by Koenig & Bauer, in which local service technicians ensure complete satisfaction and operation of the new press, along with the attention received from his sales manager Marcus Schoen.
"From an in-plant perspective, printing our own packaging is much better than outsourcing to another printer," says Khan. "We're able to save money, ensure that our packaging is of a high quality, monitor our workflow, and give us the flexibility to make changes to our packaging."
Flagship products are NeilMed SINUS RINSE and NeilMed NasaFlo Neti Pot which are available in most stores in the U.S., Canada, and thirty other countries. NeilMed currently has over 40 over the counter products for nasal and sinus care, ear care, first aid and baby care. With a small team of extremely dedicated, loyal and hardworking leadership group, NeilMed continues to formulate innovative ideas to market. In addition, diversification plans include the introduction of surgical devices for hospital and emergency rooms.
Ketan C. Mehta, MD and Nina Mehta, founded NeilMed Pharmaceuticals, Inc. in January 2000 from Dr. Mehta's medical office and in a short span, has over 500 employees. NeilMed is the largest manufacturer and supplier of LVLP (Large Volume Low Pressure) saline nasal irrigation systems in the world. The NeilMed brand of products helps alleviate common nasal and sinus symptoms in a simple, safe, effective and affordable way. The company supplies millions of products to end users through various trade channels. NeilMed's headquarters and manufacturing facility is based in Santa Rosa, California, USA. In addition worldwide offices and warehouses are located in Canada, Australia, New Zealand, UK, Chile, Costa Rica, Colombia, Hong Kong, Japan, Sweden, Mexico, Singapore and India. The company also works with distributors to supply products in numerous countries all over the world in countries such as Germany, Czech Republic, Poland, Norway, Hungary, Ireland, Malaysia, Kuwait, Lebanon, South Korea, Vietnam and Taiwan. NeilMed supplies its products to dozens of distributors in multiple countries. The unique business model has been a very strict vertical integration for achieving precision and fast execution at all levels.