Consistent high running speeds supports customer's fast turnaround times
Produced high-end posters distributed at Printing United last fall
Folding carton production for a variety of markets including high end luxury has posted the most growth since the Rapida's arrival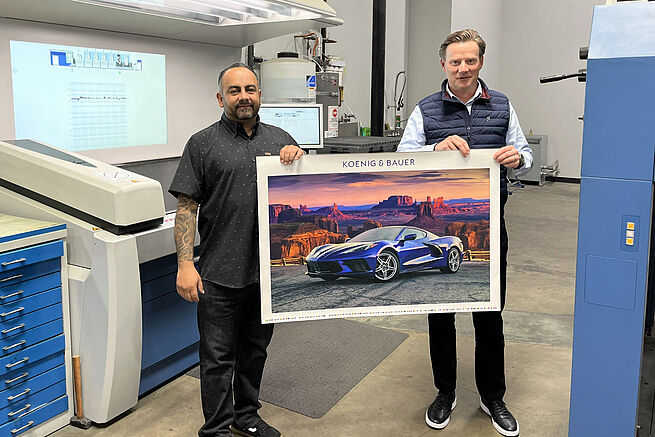 One of the fastest-growing and dynamic printers in North America is Direct Edge, a 22-year-old commercial and packaging printer with a fine pedigree of well-known brands in its roster of clients and recognized by leading publications for its award-winning projects. With locations in both Southern California and Colorado, this privately-owned industry-leading print communications company caters to more than 500 clients including AEG, Boardriders, Chipotle, Gatorade, Pepsico and Vans.
When the firm celebrated one of its recent milestones, Koenig & Bauer contributed to the festivities with the installation of a new Rapida 105 six-color UV press at Direct Edge's new 26,000 sq ft Anaheim facility.
"Our Rapida has increased our output of commercial work by contributing to our litho growth by 45% year over year and 2023 is showing the same promising pattern," says Jay Sheffield, director of operations for Direct Edge, proudly. "We have also been able to accommodate our client's needs by the press's ability to print on a variety of substrates including synthetic stocks."
Its fastest-growing segment, however, has been the folding carton market, in which Direct Edge has distinguished itself by producing packaging for the cannabis, vape, and beverage industries and gain new business producing medical device packaging and high-end luxury due to the Rapida's features.
Having the Rapida press equipped with UV capabilities has been another important dimension to its success. With clients looking for impactful finishing techniques that are cost effective, Direct Edge is able to put the Rapida's UV capability to use, increasing additional specialty coatings for its clients. They are now able to offer flood gloss and dull UV, spot gloss and spot dull UV, strike thru UV, reticulating UV, and textures such as sandpaper. The Rapida is giving Direct Edge a unique advantage over its competitors and meeting the growing demands of its clients in order to ensure the highest value and ultimate customer satisfaction.
But with the firm's fast growth, the most impressive feature on the Rapida 105 is its speed. "The press is lightning fast," says Sheffield. "From makereadys to the overall run speed, this press exceeded our expectations. Its high production is accelerating faster turn times."
"Koenig & Bauer is one of our biggest boosters and firmest supporters," says Sheffield. "They are a strong champion for our products and our sales manager, Jurgen Gruber is a knowledgeable, trusted advisor. When we vetted the company as a press supplier, we were impressed with its more than 200 year old in-depth experience and this reinforced our confidence in purchasing a highly-automated technologically advanced piece of machinery that will help us exceed our strategic goals. In fact, we are currently looking into multiple additions from Koenig & Bauer to keep up with our growth. We were honored and happy to partner with Koenig & Bauer and produce the high-end posters distributed at Printing United last fall. It was very fulfilling to watch thousands of people walking the trade show floor with our posters. We are looking forward to partnering together again this year."