Newest generation of high-tech die cutter — Ipress 106 K PRO — features an automated blanker for fast and efficient finished blanks to exit the machine for immediate processing in their folder gluers
Current Koenig & Bauer Optima 106 flatbed die cutter proved highly efficient with virtually no maintenance costs
Crossmark cites Koenig & Bauer and its operation of two Rapida 106 presses, Optima die cutter, and an Omega folder gluer as being a great partner in helping to grow their company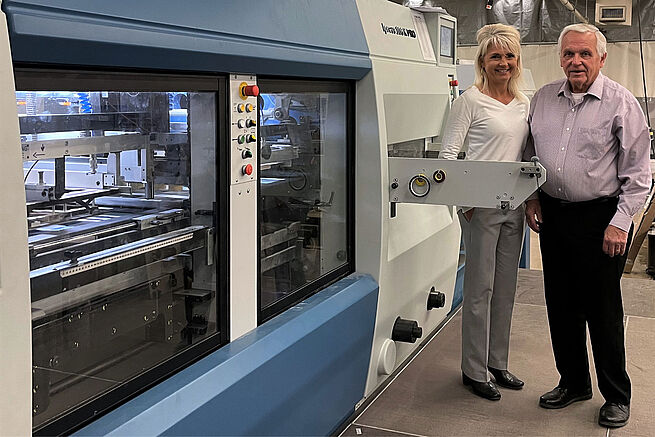 On the production floor of New Berlin, WI's Crossmark Graphics, the hum of printing presses and other industry-leading equipment echoes around the commercial printer's facility as its talented employees produce impressive packaging, commercial print jobs, and promotional material for many of the finest and most demanding American retail, automotive, travel and leisure, pharmaceutical, and corporate brands in the nation. To continue their strong growth, Crossmark's management team is always seeking new investments. This past winter the firm decided to boost its postpress department even further with a new Ipress 106 K PRO die cutter from Koenig & Bauer, which has arrived in early February 2023.
"As our business continues to grow and thrive, we found the need for a fast and versatile die cutter to contribute to the production of existing and future jobs," says Jim Dobrzynski Sr., founder of Crossmark Graphics. "Being a full-service printer, we need to have the flexibility and capability to produce jobs on all different types of substrates. We believe our Ipress 106 K PRO will die cut several types of substrates from 64-lbs to 0.11-inches thick corrugated board and solid board up to 0.59-inches thick. When we were awarded another high value job that entailed die cutting and blanking, we knew it was time to invest in a new Koenig & Bauer to increase our capacity."
In its thorough evaluation, Crossmark foresees an impressive 30% minimum increase in productivity and efficiency. Installed alongside additional die cutters, including its Koenig & Bauer Optima 106 flatbed die cutter, Crossmark has designated the new Ipress 106 K PRO for longer run work. Its operators will be thrilled with its fast make-ready capabilities and high running speed, giving them total control of the movement of the sheet through its touch screen.
The Ipress 106 K PRO offers two types of sheet monitoring at the operator's choice: either conventional or with the optional OPMR system (Optical Printed Mark Register), which uses sensors and cameras to detect a printed mark. Crossmark's operators can easily switch between the two systems using an intuitive touch screen monitor.
Crossmark operators will also be impressed with its fully automatic, shaftless DriveTronic feeder (which is the same as on the Koenig & Bauer printing machines), and which ensures optimum sheet travel and short set up times. Four servo motors control all movement functions. The DriveTronic feeder's other key features include a continuous, infinitely adjustable pile lift; automatic skew sheet correction at the feeder head during production; automatic pile-edge control for exact alignment at the feeder; and the ability to produce repeat jobs at the touch of a button.
Importantly, should the eventuality present itself, Koenig & Bauer's service team will always be nearby due to the IP remote connection system that allows remote maintenance and the ability to keep its operating system current with the installation of updates and upgrades at any time.
"Featuring our latest step-change die cutting and blanking technology this capital investment will pay dividends for many years to come by providing Crossmark Graphics with an even more significant competitive edge in its marketplace," said Steve Korn, director of national and key accounts for Koenig & Bauer. "The Ipress 106K PRO will enable Crossmark Graphics to provide the highest quality die cutting and blanking with ease and provide the capacity to capture even more new clients. We at Koenig & Bauer look forward to watching this next chapter as the team at Crossmark Graphics ventures more and more into the exciting and profitable world of packaging."
"Here at Crossmark, we pride ourselves on going above and beyond the expectations of our customers," says Dobrzynski, who oversees Crossmark with his daughter Tammy Rechner, president and CEO, assisted by sons Jay, vice president of operations; Mark, vice president of sales; and Brian, production manager. "We are proud to soon be operating the most technologically advanced die cutter on the market. Our partnership with Koenig & Bauer continues to be strong. Having two Koenig & Bauer Rapida 106 presses, a Koenig & Bauer Optima die cutter, and Koenig & Bauer Omega folder gluer puts us in the perfect spot to proclaim the reliability and technologically advanced equipment from Koenig & Bauer. We credit this incredible partnership with the entire team from Koenig & Bauer in supporting our company's high growth."
Interesting website: www.crossmarkgraphicsinc.com