New Rapida 105 PRO's preset capabilities and color control systems are a few of the highlights
New press will provide a 25% reduction or more in make-ready time as compared to its existing press
Koenig & Bauer management team provided press tours and explained its unique technical features and advantages
On a highly-anticipated day, the Carlson Print Group officially unveiled its new Koenig & Bauer Rapida 105 PRO 41-inch six-color press to its entire organization in an exciting ribbon cutting ceremony on October 29th, 2019. The award-winning printer, with headquarters in Eden Prairie, south of Minneapolis, produces some of the most vivid eye-popping customized print pieces from commercial to packaging for some of the most recognizable brands in the world. The event, which was held at Carlson's 74,000 sq ft facility, provided its team from the sales, production, and office staff with in-depth knowledge about the unique capabilities of the new Rapida 105 PRO, how it will open doors to even more high-end packaging opportunities, and expand its high value print products for all of its customers' brand marketing.
"We are proud to reveal our latest investment---our Rapida 105 PRO press---which will play a key role in producing our attention-grabbing and inventive work for our wide variety of nationwide clientele in the Fortune 100 to 500 list of businesses," says Darren Carlson, chief executive officer of Carlson Print Group. "By investing in the new Koenig & Bauer press, we are accommodating our firm's rapid growth and increasing our capacity for our valued clients that require bold, unique printed products by utilizing unique materials and special effects."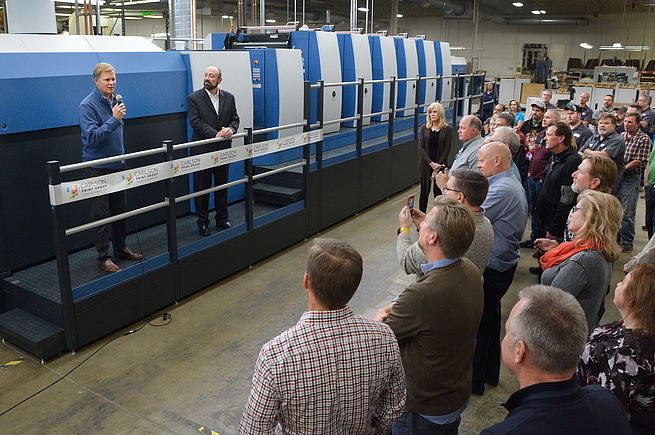 Left to right: Darren Carlson, CEO and President of the Carlson Print Group; and Eric Frank, senior vice president of marketing and product management at Koenig & Bauer; introduce all of the newest unique features of the popular medium-sized Koenig & Bauer Rapida 105 PRO 41-inch six-color press at the exciting ribbon cutting ceremony.
Indeed, the firm's internal analysis of the new press has calculated impressive productivity increases and important savings reductions in other important areas. The Rapida 105 PRO will increase CPG's productivity by at least 30% or higher, according to Earl Guinter, Carlson's sales manager, and a minimum 25% reduction in make-ready time as compared to its existing press. The latest Koenig & Bauer model at Carlson will meet its environmental and sustainable goals with the addition of energy saving LED-UV lamps.
The special event kicked off with welcome remarks from Eric Frank, Koenig & Bauer's senior vice president of marketing and product management, who addressed the crowd from the press deck on the importance of a strong partnership between the two leading firms and a vision forward. CPG's CEO Darren Carlson, standing alongside him, emphasized the importance of providing value added print solutions and explained to the audience the importance of this key investment to the organizations' continued strong growth. It is, he said, market acknowledgement of the firm's fine reputation as a high quality print provider. Carlson also noted his appreciation towards his dedicated team that continually provides the industry's top satisfaction.
After the welcoming remarks, Koenig & Bauer's sales and management team were on hand to provide insight into the unique features of the new press and lead small group walk-throughs that allowed the CPG team to understand all the new technical features and advantages it can bring to their customer base. In-depth round table discussions were held with all facets of the organization on Carlson's high growth and how the new press will support its diverse, high quality product portfolio that is unique to the marketplace.
One of Carlson's biggest targets is to attain the highest quality color for its worldwide brand customers and ensure perfect customer press checks. Equipped with a trio of superior color control systems--- ErgoTronic Color Control, ErgoTronic LAB, QualiTronic Color Control---the new Rapida 105 PRO is providing Carlson's press operators with color control that insures that their printed product maintains superior color consistency from the beginning of their production run to the end. These systems are also giving Carlson the ability to measure every single sheet and execute automatic color correction with QualiTronic ColorControl inline measuring equipment.
Carlson Print Group is pioneering new dimensions in print with the latest in imaging and finishing technologies. The Eden Prairie, MN firm prints on virtually any substrate, from the lightweight paper publication grades to a variety of synthetics including various forms of plastic. No matter what the job, from short run digital solutions to large-scale litho print projects, the quality of its work is matched only by its dedication to service.