Eight color four-over-four double-coater perfector configured to print both conventional and UV inks for both two-sided coated or straight mode productivity
Allied's growth is spurred by diversity in commercial, direct mail, and packaging fueling double-digit profits
New fully automated perfector and straight press provides multiple modes acting like a "Swiss Army knife" to support 20% growth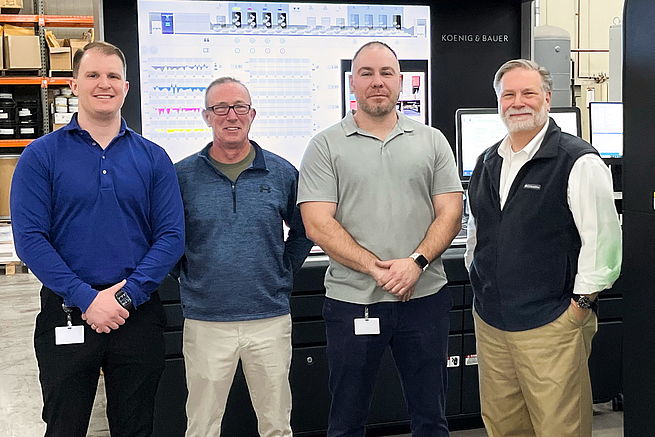 As another new year commences at Allied Printing Services, there's a new sophisticated high-performance model on the pressroom floor at the Manchester, CT facility: a new Rapida 106 X double coater UV perfector press, the first of this type of configuration in the U.S., which proudly sits next to an array of Koenig & Bauer Rapida printing presses.
"We pride ourselves on providing the highest quality work, no matter what we print," says John Sommers, president and CEO of Allied Printing Services. "This investment is a game changer for our business. It demonstrates the versality, creativity, high quality, and speed-to-market that we can deliver to our customers."
The new press is a specially configured eight-color four-over-four perfector operating at 18,000 sph that prints both conventional and UV inks. It is designed with four print units, plus coater, two drying towers, another four units, and another coater with a 12-ft delivery. It is fully automated with FAPC (Fully auto-plate changing), auto blanket/Impression cylinder washing, and the award winning sidelay free SIS system. The majority of its work is two-sided coated commercial work but it is also used for different combinations of packaging jobs in straight mode.
"Versatility for us is key," says Sommers. "With any investment, we don't buy equipment for one specific customer or project. You never know what's around the corner, customer demand can change, and we have a very diverse customer base. Having the Rapida 106 X gives us redundancy in six-color UV, allows for preventative maintenance and scheduling, and much more versatility."
While direct mail and variable data digital printing are also some of Allied's fastest growing areas, all of its vertical markets are increasing their marketing budgets. For example, the travel industry is selling a premium product to attract travelers. Allied is producing sophisticated coffee-table like booklets with digital and conventional components.The firm is also inviting travel executives to visit the Connecticut facility to demonstrate the different techniques that can be achieved on the Rapida 106 X. Having a UV press with a coating unit in the middle allows Allied to collaborate with designers for extra special looks and processes.
"2021 was a record year for us at Allied and last year we were up 20%," says Sommers. "In 2023 we expect continued strong growth. Adding this press gives us extra capacity, which we'll need. Packaging is another growing market for us and we're seeing customers increasing their marketing budgets to stand out on the store shelf or the mailbox. They're all rebounding from the pandemic, pushing the envelope and trying new things to sell their products."
"We were reluctant to install a perfector press in the past," says Sommers, "but I kept seeing more and more printers installing perfector presses. When I learned about Koenig & Bauer's superior technology and then seeing a Rapida perfector press in action, it opened my eyes to the many possibilities of owning one. This pointed to a positive ROI on investing in the Rapida 106 X double coater perfector press."
Allied's customer base demands speed-to-market in this competitive landscape and the new Rapida 106 X provides them with a huge advantage. Press operators have had it running at its top speed of 18,000 sph two sheets per side. But, as Sommers notes, that number is even higher because they are not performing makeready or hanging new plates. In his mind, it's a win for everybody as the firm derives additional capacity.
Allied is networking its four Koenig & Bauer presses together with the latest version of LogoTronic software to provide more efficiency, scheduling, and maintenance reports. It allows managers to get up-to-the-minute data on press activity and OEE results. The new Rapida 106 X is networked to Allied's Rapida 106 six-color double coater UV press, Rapida 106 eight-color conventional press, and Rapida 106 six-color conventional press; those current presses are operating at 20,000 sph. Now Allied has two UV presses and two conventional presses.
"The Rapida 106 X gives us so much opportunity and differentiates us from our competitors," says Sommers. "It's like a Swiss Army knife with multiple tools and advantages. When customers come to visit, they are blown away by the aesthetic beauty and sophistication of the new press. You can't miss the glossy black print units with LED lighting that looks like a number of iPhones sitting side-by-side. Some customers describe it as a spaceship. It really stands out on our pressroom. More importantly, we're proud to be operating Koenig & Bauer's exceptional machinery."